Lead times posted and ship dates may be impacted by COVID-19. We will provide the most up to date information to you on our quote and order acknowledgements.
Air Preparation (filter regulator lubricators)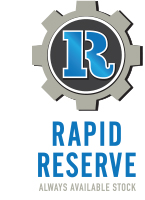 Need it now?
Whether it's a filter, brand new FRL combination or a replacement element, RG Group has the pneumatic products you need to keep your work on schedule. You can't afford the downtime and you can't wait weeks to get your parts. You need them ASAP. Our
RAPID RESERVE always available stock
is a hand-selected group of our most popular pneumatic products that we have on the shelf and ready to ship exactly when you need them.
Keep on schedule with quality Parker Pneumatic parts.
Whether you need a mini, compact or standard-sized global modular particulate filter or regulator, we have an option that's readily accessible. You will also find ball and lockout valves, mounting brackets, body connectors as well as mini and compact filter replacement elements. All of our pneumatic products are backed by Parker's Pneumatic Division, the global leader in motion and control technologies. Can't find exactly what you are looking for? Talk to one of our product experts at
1.877.870.2692
for help finding the perfect part for the task at hand. Know exactly what you need? Buy it now to keep your project on the fast track. RG Group - Premier global products delivered with world class service.