Morse Fluid Technologies, a division of RG Group, is a leading provider of fluid handling components and application engineered solutions.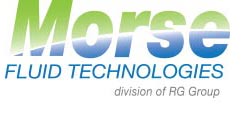 We have the capabilities to provide consulting services for product concept, market studies, FDA validation, focus and advocacy groups, packaging and sterilization. We have a fully integrated assembly department that can provide everything from hose assemblies to complete control panels... and everything in between. Our assembly team has the trusted expertise needed to fulfill the requirements of our toughest customers, many of which are large Fortune 500 companies. We have strategic partnerships with world-class manufacturers, allowing us to fill any requirement for the medical device, life science, biopharmaceutical, semiconductor, high purity and water filtration markets, along with factory automation and material handling. Morse has been an ISO registered company since 2013, and currently has
ISO 9001:2015
certification.
We are one of Colder Products Company's premier distributors. Working closely with CPC, we've developed many innovative custom products. We strongly believe in listening to our customers. In fact, working hand in hand with our customers has resulted in a wide array of unique engineered solutions. We get the job done Our experienced team of Engineers will assist in all phases of the project, from conception to final production and all the important stages in between. Morse products are found everywhere... in operating rooms, rehabilitation centers, hematology labs and dialysis equipment, water filtration products, critical care life support and monitoring equipment. If it has tubing, a fitting or a solenoid valve, there's a good chance it's from Morse. Your problems aren't the same as the next guys'... your solution shouldn't be either. We specialize in creative solutions to some very interesting and complex system requirements.
---
---



Manufacturer's Directory
Air Logic®

Precision regulators, pressure and vacuum switches, check valves, orifices
and
accessories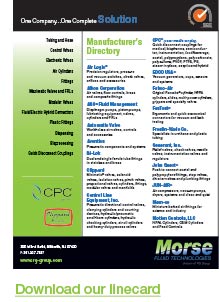 Alkon Corporation

Air valves, flow controls, brass and composite fittings
ARO® Fluid Management

Diaphragm pumps, piston pumps, lubricating equipment, valves,cylinders and FRLs
Automatic Valve

World-class air valves, controls and accessories
Aventics

Pneumatic components and systems
Bi-Lok

Dual and single ferrule tube fittings in stainless and brass
Clippard

Minimatic® valves, solenoid valves, isolation valves, pinch valves, proportional valves, cylinders, fittings, modular valves and manifolds
Control Line Equipment, Inc.

Pneumatic directional control valves, clamping cylinders and counting devices, hydraulic/pneumatic small-bore cylinders, hydraulic checking cylinders, air-oil cylinders and heavy-duty process valves
CPC®

(Colder Products Company)

Quick disconnect couplings for medical, biopharma, semiconductor, instrumentation, food/beverage, acetal, polypropylene, polycarbonate, polysulfone, PVDF, PTFE, PE, steam-in-place, aseptic and hybrid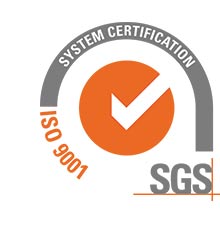 EDCO USA®

Vacuum generators, cups, sensors and systems
Fabco-Air

Original Pancake® cylinder, NFPA cylinders, slides, multi-power cylinders, grippers and specialty valves
FasTest®

Ergonomic and quick economical connectors for vacuum and leak testing
Freelin-Wade Co.

Specialists in urethane and plastic tubing
Generant, Inc.

Relief valves, check valves, needle valves, instrumentation valves and regulators
John Guest®

Push to connect acetal and polypropylene fittings, stop valves, diverter valves
and
plumbing fittings
JUN-AIR®

Air compressors, vacuum pumps, dryers, systems and clean and quiet
Mem-co

Miniature barbed air fittings for science and industry
Motion Controls, LLC

NFPA Cylinders, OEM Cylinders
and
Feed Controls
Nitto Kohki

(formerly Medo)

Air compressors, vacuum pumps and liquid pumps
Parker|RECTUS

Quick disconnect couplings, brass
and
stainless steel
Peter Paul Electronics Co., Inc.

2- and 3-way solenoid valves, specialty, latching, thermoplastic, miniature valves
and
manifolds
Renco Electronics, Inc.

Transformers, inductors, chokes
and
coils
Rubber Fab

Hygienic gaskets, biologic indicators, smart gaskets, hose assemblies,
tri-clamps and fittings
SMC Corporation

Inert valves, air or gas valves, fittings, filters, dryers, chillers, instrumentation, actuators, high purity components, temperature controls and actuators
Saint-Gobain

Tygon® food, chemical, medical and surgical tubing
Spartan Scientific

Inert isolation valves, solenoid valves and manifolds
Springville Mfg. Co.

Low-profile cylinders, tie-rod cylinders
and
air-oil tanks
TBL™ Performance Plastics

(Thermoplastic Biologics)

Single-use assemblies, clean room assembly, class VI tubing, industrial, vinyl, FEP, PFA and PTFE tubing
The Specialty Manufacturing Co.

Ball valves, check valves, needle and miniature valves
Thogus
Adapters, Tees, reducer bushings, elbows, plugs
and
connectors
VNE Corporation

Sanitary, stainless steel fittings, valves, tubing and specialty products
Welco Co., Ltd.

Peristaltic pumps and stepper motors