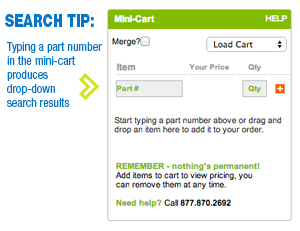 Search Tips
With thousands of items available on www.rg-group.com, and new products constantly being added, finding the product you're looking for may seem overwhelming. To find exactly what you need, as quickly as possible, we have divided our products into convenient departments and provided a search bar on our shopping home page.
Already know what you're looking for?

Go to our shopping home page and type the part number in the search bar located at the top right column. A pop-up list of options will appear, or click Find it! and you're on your way.
Don't have a part number? Not sure what it's called?
Departments

To make things easy, we've grouped our products into several broad categories. These categories are located on the right-hand side of the shopping section of the website. You can jump from one department to another at any level.

Select a department to see what's available.
Products are put in sub-categories so you won't have to scan a product listing with thousands of parts you don't want or need. You'll notice on the right, just under the department listing, a growing list of attributes to help narrow your search. This category drill-down continues until you reach the lowest level of a category where a product's part number will be displayed. If you click on the part number you will get a page with all the details you need to make an informed decision. Where available, accessories and replacement parts will be listed.

Drag and drop any part number into the mini-cart to see the current price we can offer you.
Advanced Search
Key words

Along with part numbers, the search feature allows you to specify key words like manufacturers name, special features, materials, trade name (like Seal-lok or Parkrimp), configuration type (female, flange, etc.) and is constantly being updated to get more intuitive.


Spelling counts…
although we attempt to return the information that you want, misspelled words will generally not return results.
N
o results?

Every now and then you may get a search that returns no results.
If you see this, feel free to contact us at 800.340.0854 and talk to one of our product experts.
You may also send an inquiry HERE.