| | |
| --- | --- |
| At RG Group, we offer Gast air compressor tank systems. They have a compact design with the full capabilities of any larger system for improved efficiency. They're also easy to install, operate and maintain, making them an ideal choice for many different applications. | |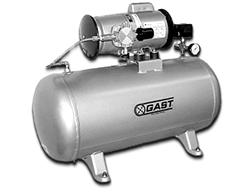 Gast Dry Sprinkler Tank Systems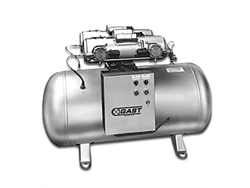 Gast Duplex Pressure Tank Systems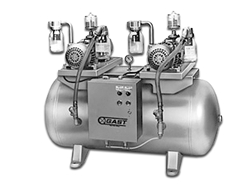 Gast Simplex Pressure Tank Systems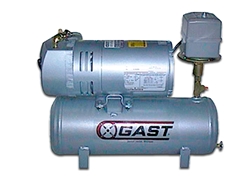 Gast Simplex Vacuum Tank Systems
Common Uses
Gast tank systems are used in a variety of industries, including:
Food and beverage
Material handling
Environment
Transport
General industrial
Medical/laboratory
Printing/packaging
Whatever your industry may be, the experts at RG Group can help you find the perfect Gast system solution for your project needs.
Why Choose Gast?
For more than 90 years, Gast has been designing and creating innovative air-moving products. They have a large selection of products that are available all over the world. RG Group is a premier authorized Gast distributor, and we also provide custom options to create exactly what you need.
Gast products are some of the most innovative ones available, with superior, one-of-a-kind design. They're highly durable and built for efficiency to minimize downtime and optimize performance. Gast tank systems are also compact, portable, high-quality and reliable.
Types of Gast Tank Systems
RG Group offers several different types of tank systems, including:
Gast dry sprinkler tank system: Piston air compressor that's motor-operated for use in dry sprinkler systems. Its internal parts are corrosion-resistant and do not need lubrication.


Gast duplex pressure tank system: Oilless construction that includes an easy-to-operate electric panel. With an integrated pump or compressor, these are powerful tank systems.


Gast simplex pressure tank system: Complete system that allows for reduced noise levels, cool-down periods for extended lifespan and on-demand suction or pressure.


Gast simplex vacuum tank system: Sturdy construction, oilless operation and built-in air reserve. Easy to operate and maintain, and can hold up to tough demands.
We also have a wide variety of accessory options to enhance and ensure optimal performance for each type of tank system.
Choose RG Group for Your Gast Tank Systems
RG Group is your premier full-service provider for Gast tank systems. We've been in business for more than 60 years, designing and building innovative motion control and fluid handling products and solutions while distributing top brands to our customers. When you buy from us, you can be sure you'll receive:
• Affordable prices: We offer affordable, competitive prices based on time spent and materials used rather than vague industry standards in order to provide you with cost-effective options.


Custom options: RG Group designs and builds custom solutions for our customers' projects to best fit their needs.


High-quality products: We're dedicated to providing the highest quality solutions and products, and we're ISO 9001 certified.


Dedicated customer service: We pride ourselves on our customer service, and we'll be available to you 24/7 for repair and installation services. We'll also work with you throughout the entire process, from design to production and beyond. And you can count on fast turnaround and delivery time frames.
For more information about Gast tank systems from RG Group, fill out our online form or call us today at 1-800-340-0854.