SMART ROBOTIC TECHNOLOGY

Are you ready to revolutionize your industry? Utilizing a collaborative robot can assist you in automating processes like machine tending, fabrication, pick and place, packaging and so much more. Deploying even a single collaborative robot will modernize and optimize your production processes, helping you to compete in an increasingly global marketplace.
The rapid advances being made in the robotics industry have led to a significant rise the use of collaborative robots in the workplace. Future advances will see these robots take on an even wider range of tasks, making competition in the global marketplace even tougher. Ensure your business and your employees have the tools to compete by embracing the future now.

EVER CONSIDER LEASING? CONTACT US TO LEARN MORE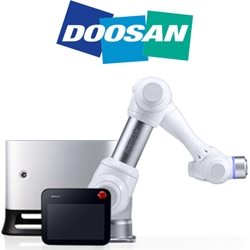 Doosan Robotics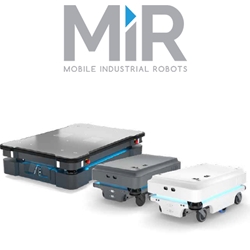 MiR Mobile Industrial Robots
Why Robotic Technology Is Right for Your Business
Collaborative robots, also called COBOTs, will continue to revolutionize the manufacturing industry. The benefits of industrial automation include:
Safety: Safety is one of the most important benefits of smart robotic technology. Robots can handle toxic chemicals, heavy equipment and other environmental hazards and dangers without fear of injury. In addition, robots do not get tired or distracted — conditions that often lead to workplace accidents.


Efficiency: Robots can perform menial, repetitive tasks much faster and with greater accuracy than humans. You can maximize your production without having to invest in more workers, leading to increased profits.


Productivity: Rather than performing dangerous, repetitive tasks, human workers can focus their skills on more productive work and jobs that COBOTs cannot do.
Doosan Robotics
If you think your company could benefit from industrial hydraulic robot arms, consider Doosan Robotics. Doosan is a leader in the industrial hydraulic robot arm, particularly their 6-axis industrial robot arm. Doosan robotic arms use torque sensors to safely and efficiently perform some of the most challenging manufacturing tasks in a smart factory.
MiR Mobile Industrial Robots for Sale
MiR offers mobile industrial robots that can ease the workload of employees across industries. Simple to use and program, these autonomous robots can transport heavy loads anywhere in your warehouse or other industrial facility. These robots feature sophisticated navigation controls to avoid people and obstacles and find the most accurate path to their destination.
Contact us today with any questions about the robotic solutions we offer.