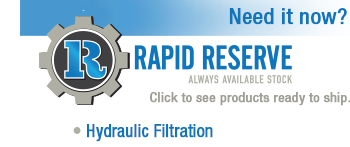 Filters are essential for keeping things clean. RG Group offers high-quality Parker filtration products that purify liquids, solids and gases for optimal functioning. With air preparation (FRLs) and hydraulic and lube oil options, RG Group has a Parker filter solution that will work for your project. Our large variety and commitment to quality provide our customers with the options they need to ensure top performance of their systems and innovative solutions to their filtration needs.



Common Uses
Filters are needed for a wide variety of industries, such as:
HVAC
Water purification
Oil and gas
Bioscience
Aerospace
Automobile
Food and beverage
Marine
Chemical
And more
If your company or project requires the cleanest possible liquid and air solutions, Parker filters can provide the options you need to keep your systems working at the most efficient levels possible, whatever your industry may be.
Type of Parker Filters
There are two main types of Parker filter products that RG Group offers:
Hydraulic and lube oil filtration: Parker hydraulic and lube oil filter products are innovative, and you can see the high level of expertise in their entire line of products. Parker products are reliable, durable and provide for top quality filtering.


Air preparation (FRL): Parker air regulators create clean and dry air, which is essential for any pneumatic system. They trap dust and dirt to provide consistent working pressure. Overall, Parker air line filters keep the air clean for optimal performance and operating conditions.
Why Choose RG Group?
RG Group is your ideal supplier for Parker products and industry solutions. We have been in business since 1956, designing, building and innovating motion control and fluid handling products and solutions. As a full-service provider, we can deliver whatever you may need, whenever you need it. We are committed to providing the highest quality engineering, quality assurance and customer service, and we work with you through every step of the process, from designing and engineering to production and more.
Other benefits of working with us include:
Competitive prices: We offer competitive, fair prices that are determined by the actual work and materials we use for a project. We don't base our prices on vague industry standards that are not always in line with the work performed.


Custom options: RG Group can provide you with custom designs and build plans to create the solution that will work best for your specific company and project.


Certification: You can rest assured that RG Group is providing you with the highest quality projects possible, as we are ISO 9001 certified.


Around-the-clock service: We are available 24/7 for repair and installation services. And with our large network of local branches, we can provide our customers with quick service and fast turnarounds and delivery times.
For more information about RG Group and our Parker filtration options, call us today at 1-800-340-0854 or fill out our online form. One of our representatives will be in touch as soon as possible.