At RG Group, we know the importance of saving you time on your projects, and when something needs to be fixed or replaced, there's no time to waste. That's why we offer Rapid Reserve next-day shipping. We've carefully chosen our most popular products to be available at all times for next-day shipping, so you won't have to wait for the parts you need.
You can rest assured that these fast-tracked parts have the same high quality as all our other products. What's more, our experienced staff has the technical knowledge to keep you on the fast track. We stay ahead of the game with our production so that when you require a reliable product fast, we can get you what you need.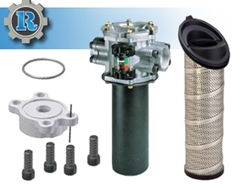 Hydraulic Products
valves, filtration, cylinder repair kits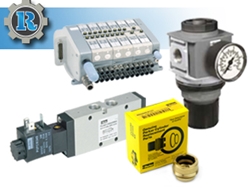 Pneumatics - air preparation (FRL's), air line
accessories, valves, cylinder repair kits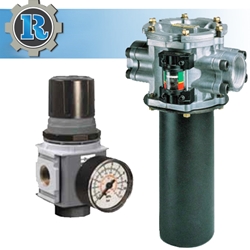 Filtration Products
Types of Rapid Reserve Parts
We offer a wide variety of Rapid Reserve parts, including:
Hydraulic parts: We keep our hydraulic filters on Rapid Reserve so that they can be delivered to you the next day. Our filters provide highly efficient contamination removal, and we have many options, including low- to high-pressure solutions, different indicator types, fluorocarbon or nitrile seals, microglass or eco glass and more.


Pneumatic parts: Our most popular air preparation (FRLs), valves and cylinders are always ready to go. Pneumatic valve options include manifold/sub-base and inline valves. We also have Rapid Reserve pneumatic part repair kits and airline accessories.


Filtration parts: We keep hydraulic and lube oil filters in our Rapid Reserve stock as well as air preparation filters, so you won't have to wait.
Our Rapid Reserve parts provide the quality and dependability you count on.
Why Choose RG Group?
RG Group has been designing and creating cutting-edge, high-quality fluid handling and motion control solutions and products since 1956. Over the years, we've come to know our customers' needs well, which led us to develop our Rapid Reserve parts line. When you need a part fast, we can get it to you without sacrificing quality. When you buy from our Rapid Reserve parts line, you can count on:
Guaranteed availability: Our Rapid Reserve products are always in stock. We've determined our most popular products and made it our priority to keep them on the shelves.


Fast shipping: When you order a Rapid Reserve part, it will be available for next-day shipping, so you can receive it as soon as possible.


Same great quality: Our Rapid Reserve parts are the same high quality as all our products, just delivered quicker.


Affordable prices: Our Rapid Reserve parts are affordably and competitively priced for a quick and cost-effective solution.


Dedicated customer service: Our customer service professionals will help to ensure that your fast-tracked item is what you need and arrives when you need it. If you have questions or want to make sure that the product you're purchasing will work with your deadline, our product experts can help.
For more information about Rapid Reserve parts from RG Group, call us today at 1-800-340-0854 or fill out our online form. Our staff will be in touch as soon as possible.