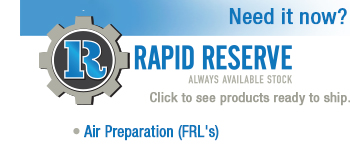 Clean, dry air. It's not just something you wish for during the hazy, humid days of a blazing summer. Clean, dry air is essential to your pneumatic system. It keeps your system in peak operating condition and greatly enhances overall performance. Parker Prep Air II air preparation filters will take you to the next level, because they always say it's not the heat... it's the humidity.



Dry and clean air is extremely important in any pneumatic system. Air preparation FRLs, which combine the filter, regulator and lubricator, will help keep enhance your system performance and keep your system in optimal operating condition. At RG Group, we have numerous Parker FRL options to fit your needs.
Parker Pneumatic Air Preparation
FRLs help ensure that your system is receiving a clean, lubricated supply of compressed air at the proper pressure for top performance. Parker has a wide range of products for numerous applications, making it easy for companies to reduce maintenance costs and downtime as well as protect their equipment and maximize their pneumatic solutions. Parker air regulators feature lightweight, compact design, plug-and-play installation and virtually maintenance-free operation.
FRLs are used in a variety of demanding industries, including the automotive, factory automation and heavy industries. Common applications include assembly, packaging, conveyance, production line and general industrial use.
Parker air regulator valves and FRLs are also easily configured and offer a high flow combination. They effectively remove moisture and contaminants from the air for worry-free operation. FRLs are extremely reliable, so you can trust your system to run efficiently when you have them in use.
Parker Product Information
Parker is known for excellence in engineering and innovation, making the company a global leader in motion and control technologies. They develop and manufacture high-quality products for many industries and applications, including aerospace, pneumatics, filtration, hydraulics and electromechanical. Their products are designed to improve quality control, increase productivity and maintain safety.
Parker air preparation filters (FRLs) come in numerous high-quality configurations, so you can find the perfect fit for your project.
Choose Parker Supplies From RG Group
RG Group is a premier supplier of Parker products with a large selection of air preparation filters (FRLs). You can browse our filter options online or visit us in person at one of our Parker retail stores in the mid-Atlantic region to choose from more than 3,000 Parker products.
RG Group creates products and solutions for companies across a wide variety of industries, including robotics, marine, oil and gas, aerospace and more. For more than 60 years, we have been a leader in hydraulic, pneumatic and electromechanical technologies. Our factory-trained technicians can provide you with advice on what might work best for your project and develop custom solutions to meet your needs. When you work with us, you can expect to benefit from our:
24/7 repair and maintenance services
Large inventory for quick delivery and service
ISO-certified manufacturing
Factory-authorized repair service and warranty for major brands
Custom solutions and installations
Field service technicians and service trucks
Knowledgeable, certified technicians (welding, hydraulic, electrical)
For more information about RG Group's services and products, call us today at 1-800-340-0854 or fill out our online contact form. After you get in touch, one of our representatives will reach out to you as soon as possible.