Valves
For applications that are high-pressure and require precise measuring, it's important to choose the right valves to ensure safety and accuracy. Parker instrumentation valves offer a wide range of options and can perform in pressures of up to 150,000 psi. At RG Group, we offer several categories of Parker instrumentation valves including flow control valves, ball valves, plug valves and check valves.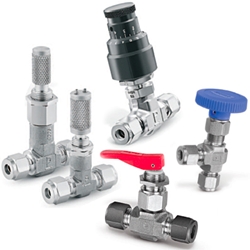 Flow Control, Needle and Metering Valves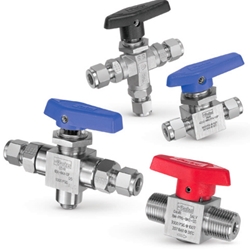 Ball Valves and Plug Valves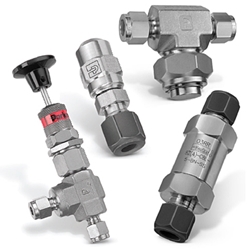 Check, Filter and Relief Valves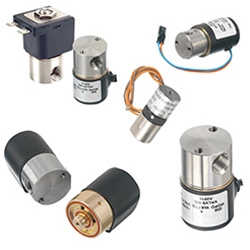 Solenoid Valves, Manifolds, and Accessories
About Parker
For more than 100 years, Parker has been a global leader in motion and control technologies. They create high-quality, innovative products for a vast range of applications and technologies, including:
Transportation
Aerospace
Power Generation & Renewable Energy
Electronics & Semiconductor
Industrial & Chemical Processing
Oil & Gas
Healthcare & Life Sciences
Off-Road Machinery
HVAC & Refrigeration
Industrial Manufacturing Equipment
Parker is a trusted, quality brand. That's why we provide our customers with Parker instrumentation valves so they can be sure they are using the best valves available.
Parker Instrumentation Valves Available From RG Group
At RG Group, we have a large selection of Parker instrumentation valves available. We carry three different types:
Parker flow control valves: Includes needle valves (angled and inline), rising stem plug valves, metering valves and toggle valves, all available in low, medium or high pressure; there are also pneumatic, electrical or manual operated actuators; typically used in food & beverage, oil & gas, chemical and power generation applications.
Parker instrumentation plug valves and ball valves: Provides leak tight shut-off and high flow capacity; offers reliable sealing technology at all operating pressures; ball valves come with spring loaded seats and trunion-style ball design to handle harsh applications; available with 1/2 or 1/4 turn media shutoff with design that accommodates a variety of combinations and end connections; also available as manual, electrical or pneumatic actuated 2-way and 3-way valves.
Parker check valves: Designed to withstand severe conditions of demanding applications; available in low, medium, and high pressure; provide uni-directional flow control of gases and fluids; commonly used in oil & gas, pharmaceutical and power markets.
All Parker valves provide precise control and reliable safety so you can count on them to stand up to even the harshest applications.
Choose RG Group for Parker Instrumentation Valves
RG Group is an ideal supplier for your instrumentation valves and industry solutions. We have been a trusted provider of fluid handling and motion control products and solutions for more than 60 years. We specialize in hydraulic, pneumatic and electromechanical technologies, offering a vast selection of industrial products for our customers.
When you work with us, you can count on custom solutions, 24/7 installation and repairs, and dedication to customer service. We also have branch locations throughout the Mid-Atlantic region so we can provide our customers with real-time solutions and ship them in the time you need.
To request a quote or find out more about our Parker products and the services we provide, call us at 1-800-340-0854 or complete our online form and someone on our team will get back to you as soon as possible.