Lead times posted and ship dates may be impacted by COVID-19. We will provide the most up to date information to you on our quote and order acknowledgements.
Fixing a Hydraulic power system is not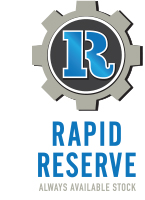 a "do-it-yourself" proposition.
You can't afford a lot of downtime so when something goes wrong, you need to fix it FAST. You need quality parts and you need them NOW. You also need the expertise to back you up, to make sure you have the right part for the job. RG Group is here to help. With our RAPID RESERVE always available stock we've selected a line of our most popular hydraulic filtration products, valves, pumps, motors and cylinder repair kits appropriate for a wide variety of applications. RAPID RESERVE products are on the shelf and ready to ship and as always, our product experts are here to answer questions if you have them. All it takes is a couple of clicks to place your order by 3:00pm EST and we'll ship it today.
Don't worry, just because your project is on the fast track doesn't mean you have to sacrifice quality service. With over 55 years of motion control and fluid handling expertise our customer service professionals can provide the technical know-how to keep your project on the fast track. At RG Group we do more than sell parts, we supply innovative solutions to satisfy any requirement.