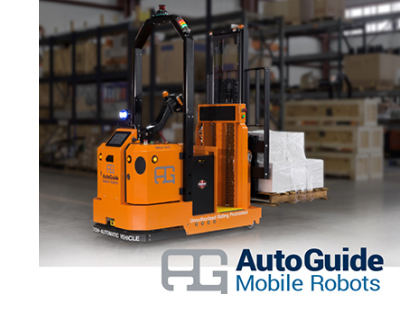 AutoGuide High-Payload AMR

AutoGuide is the new leader in High-Payload Autonomous Mobile Robotic Solutions. Why AutoGuide? The Max N10 Mobile Robot Platform units move without tape, radio frequency identification (RFID) tags or mirrors. They are flexible and scalable, easily deployed, fully maneuverable and safe. The AutoGuide non-contact collision avoidance system is American National Standards Institute (ANSI) Compliant and works at full speed and full load.


About AutoGuide
AutoGuide Mobile Robots is a United States-based company that designs and manufactures high-payload autonomous robots for various heavy-duty operations. The company is best known for creating the Max N10 modular AMR platform. Its platforms and robots are reliable and affordable in the industry. Plus, AutoGuide Mobile Robots's solutions are becoming more application-specific to meet particular industry needs with configurations for:
Pallet stackers.
Tuggers.
Car movers.
Conveyor decks.
Benefits of an Autonomous Mobile Robot (AMR)
There are several advantages of using an AutoGuide high-payload AMR in your industry, including:
Flexibility. AMRs can create an efficient path to their destination using sensors and cameras, so they can complete various tasks with ease.
Scalability. AMRs are easy to deploy, so you can start with a few and increase your fleet as your business grows. This modular deployment method is also cost-effective.
Safety. Due to their efficient traveling, AMRs can use their sensors and cameras to identify and avoid obstacles such as products and people.
High-Payload Industrial Autonomous Mobile Robots From RG Group
If you are looking for mobile robots for your facility, RG Group has a few excellent options from AutoGuide, including:
Mylo low-profile mobile robot: The low-profile robot fits under carts by hitching them to the pin assembly and transporting them to the destination. Its load maximum is 4,400 pounds.
Max N10 mobile robot tugger: This robot can move loads up to 10,000 pounds autonomously without guidance from mirrors, reflectors or tape.
Max N10 pallet stacker: This counterbalanced lift truck picks up and places pallets up to 5 feet high and 1,770 pounds. It uses vehicle sensors to identify a pallet and its location and then plans a travel path to take the pallet to its destination.
The autonomous mobile robots have many beneficial features:
Rugged: These robots are built to last and have high payload capacities to handle any load.
Productive: The robots can drive at quick speeds with a full load in forward or reverse. With Automatic Opportunity Charging, the robot will charge itself at ideal times.
Efficient: Using Wi-Fi, the robots use SurePath Fleet Controller and On-Bo to navigate through your facility.
A high-payload AMR can be used for several applications:
Distribution
Assembly
Warehousing
Manufacturing
Choose RG Group for Your High-Payload AMRs
If you are looking for an autonomous mobile robot to use in your warehouse, RG Group has what you need. For over 60 years, we have provided a wide array of solutions for the pneumatics, hydraulics, automation and electromechanical disciplines.
When you purchase high-payload industrial autonomous mobile robots from RG Group, you will benefit from our dedicated customer service. We have several locations throughout the Mid-Atlantic region, so we are accessible to you. If you ever have an issue with your robot or other equipment, you can rely on our 24/7 installation and repair services to help.
To learn more about AutoGuide products or request a quote, call our representatives at 1-800-340-0854 or fill out the contact form on our website.