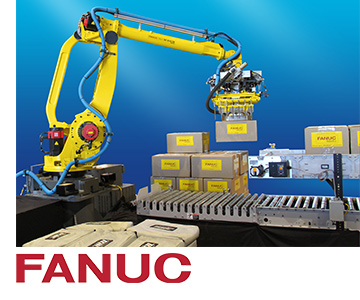 FANUC America Industrial Robots

Automation is an integral part of manufacturing success because it helps businesses keep up with changing markets. Today's robots are made using the newest innovation, integrating into production processes for better efficiency and results.
At RG Group, we offer Fuji Automatic Numerical Control (FANUC) articulated robots, Delta robots and intelligent features like camera packages, 3D vision sensors and force sensors. FANUC is a worldleader in computer numerical control (CNC) automation and offers the ROBOSHOT (Electric Injection Molding Machine) and ROBOCUT (Wire-cut Electric Discharge Machine).
About FANUC
FANUC has been known internationally for a wide range of industrial automation solutions since 1972, including CNC systems, robots and factory automation. The company's delta robots and other solutions will enhance your production capabilities and manufacturing strategies. FANUC serves several essential industries, including:
Medical devices.
Alternative energy.
Pharmaceutical.
Consumer goods.
Food and beverage.
Agriculture and construction.
Woodworking.
Oil and gas.
Aerospace.
Plastics.
Warehousing.
Automotive.
Die cast, foundry and mold.
Glass.
Paper and printing.
Benefits of Delta Robots
Adding FANUC articulated robots to your production line will bring many advantages, including:
Increased efficiency. Robots can complete more work in less time compared to people due to their automation and accuracy.
Better product quality. The accuracy of delta robots means that they make products better, meeting your quality control standards.
Longer working hours. Robots eliminate the human disadvantages of distractions and break times by operating at all hours at top efficiency.
Higher profits. Due to a low cost per product and required resources and excellent efficiency, robots can generate more revenue.
Enhanced company image. Using robots shows that your business is taking advantage of the latest technology, impressing your clients and boosting your brand.
FANUC Articulated Robots From RG Group
At RG Group, we have several robot options available. Each has many product variations, so you can find just what you need.
FANUC SR 12iA ultra high speed selective compliance articulated robot arm (SCARA) robot
FANUC LR mate 200iD/7WP versatile intelligent mini robot
FANUC R 2000 iC/125 L multi-purpose intelligent robot
FANUC M 20 iA/20 M small payload handling intelligent robot
FANUC M 710 iC/70 medium payload intelligent robot
These machines have several advantageous features, such as:
A brake release switch to recover from errors.
A compact footprint and slim profile to save space.
High vertical strokes for assembly, handling and packaging.
A lightweight design for easy integration into the system and quick operation.
Large load capacities and speed for efficient operation.
You can use delta robots in various applications, such as:
Assembly.
Dispensing and sealing.
Picking and packaging.
Palletizing.
Kitting.
Spot welding.
Painting and coating.
Machining and loading.
Material removal.
Part transfer.
Choose RG Group for FANUC America Industrial Robots
If you need FANUC robots to enhance your operations, choose RG Group. We have a wide selection of products available for hydraulics, automation, electromechanical and automation tasks. With our industry experience of more than 60 years, we are committed to helping you find your ideal solution.
When you partner with RG Group, you can trust our 24/7 installation and repair services to restore your equipment. We have many branches throughout the Mid-Atlantic region, so we are easily accessible whenever you need us.
For more information or to request a quote for FANUC America industrial robots, call 1-800-340-0854 or complete our contact form.