OnRobot - End of Arm Tooling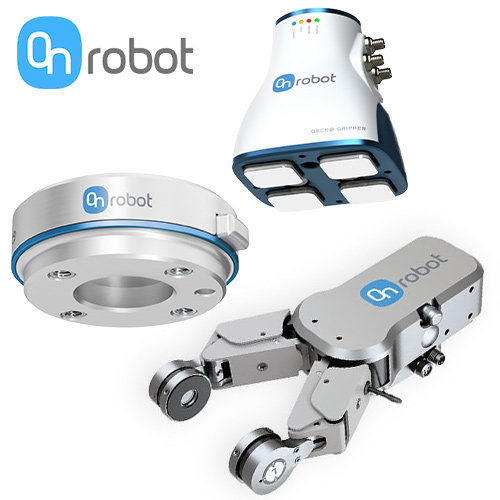 Automation helps manufacturers stay ahead of the competition because it allows you to make products quicker at lower costs. Implementing robotic arms in your facility is an excellent choice because you can easily integrate them into production at a low price.
OnRobot products unlock a world of possibilities for automating projects and processes you never thought possible. Take your robotic arm to the next level with state-of-the-art tool changers, sensors and grippers designed to maximize your automation efforts. Immediately deployable, installation and programming is a snap keeping your production working at peak efficiency.
About OnRobot
OnRobot manufactures vacuum grippers, electric grippers, force and torque sensors, and similar products for automation. When you use OnRobot products in your workflow, you can gain all the benefits of automation, including safety, cost savings and ease of use. The company has collaborated with manufacturers in many industries, including:
Assembly. Nut driving, positioning, inserting, screwdriving and mounting
Machine tending. Computer numerical control (CNC), injection molding machines (IMM) and press
Quality. Measuring, testing and inspecting
Material removal. Polishing, milling, deburring, drilling, sanding and buffing
Material handling. Palletizing, sorting, transferring and packaging
Benefits of Robotic Arms for Automation
Introducing robotic arms into your production processes will give you many benefits, including:
Higher accuracy. Robots are programmed to exact specifications, so they will complete the same precise work every time. This accuracy leads to better quality products and less waste.
Enhanced production. Robots can work 24/7 at faster rates than people. This speed — and their high accuracy levels — leads to more produced per hour.
Greater flexibility. Robots can work on tasks unsuitable for people, including applications that are difficult, boring, dirty and unsafe. When robots are assigned to these tasks, people can work on more desirable jobs in the facility instead.
Several applications. Automated robotic arms can do various jobs — even more than one — easily.
OnRobot Products Available From RG Group
At RG Group, we have several robotic arms for automation:
OnRobot 102012 RG2 flexible robot gripper with two fingers
OnRobot 102844 VGC10 compact customizable electrical vacuum gripper
OnRobot 104086 Gecko SP1 gripper with compact no-mark single pad adhesive
OnRobot 104374 screw feeder
OnRobot 100534 HEX-H low deformation force and torque sensor
Our OnRobot robotic arms have many excellent features, such as:
Flexible grippers. The flexible grippers are compatible with many part shapes and sizes.
Easy deployment. Out-of-the-box grippers simplify programming requirements.
Plug and produce. This design means that the robotic arm is ready to work out of the box, so you can get up and running sooner.
OnRobot designs robotic arm solutions for many applications, including:
Assembly.
Pick andplace.
Surfacefinishing.
Packaging andpalletizing.
Qualitytesting andinspection.
Machinetending.
Plastic part handling.
Choose RG Group for Robotic Arm Products for Industrial Automation
For all your OnRobot needs, choose RG Group. For more than 60 years, we have helped customers in the automation, hydraulic, electromechanical and pneumatic fields find their ideal motion control and fluid handling solution.
When you work with us, you will benefit from our outstanding customer service. This includes our 24/7 installation and repair services available to help get your equipment back to working order. With several branches throughout the Mid-Atlantic region, we are prepared to serve you no matter where you are.
Request a quote or learn more about robotic arms by calling us at 1-800-340-0854 or completing our contact form online.