Industrial hydraulic valves are designed to withstand high pressures and provide excellent durability. At RG Group we carry an extensive line of Parker hydraulic valves, and we have the experience and expertise to help you find the right one for your project.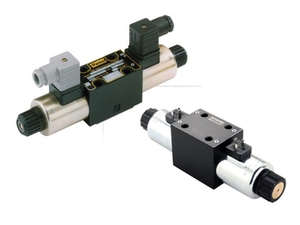 Subplate/Manifold Directional Control Valves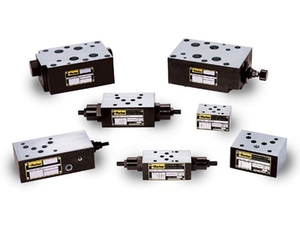 Pressure, Check and Flow Control Modules
Parker Hydraulic Valves
All Parker products are made with precision and quality that set the industry standard. When choosing hydraulic valves, Parker directional control valves and Parker manifold sandwich valves make superior options.
Hydraulic directional control valves are essential elements in hydraulic machinery. They are specifically designed for industrial hydraulic applications in which high cycle rates, high efficiency and longer life are priorities. Parker flow control modules allow fluid to flow into different paths from multiple sources. They contain a spool which controls the flow, allowing for smooth operation, accuracy and easy adjustment. Directional control valves are used in a wide variety of industries, including:
Oil and gas
Marine
Power generation
Packaging
Molding
Automation
And more
Parker manifold sandwich valves are compact, cost-effective, and reliable solutions compared to externally mounted valves. They also have a reduced number of leak points because they have fewer connections. They can reduce energy costs and improve efficiency, and because of their compact size, they are well-suited to confined spaces. Manifold valves are used for applications such as vehicle body assembling, palletising and wrapping and bundling.
Benefits of Parker Products
As a global leader in motion and control technologies, Parker produces high-quality products that are used in a wide variety of industries and applications, including electromechanical, hydraulics, pneumatics, aerospace, filtration and more. Parker products are developed and manufactured to improve production and quality control, increase productivity and maintain safety. With a focus on innovation and excellence in engineering, Parker products set the industry standard.
For your industrial hydraulic valve needs, Parker has directional control valve and manifold sandwich valve options that will get the job done with precision.
Choose RG Group for Your Parker Supplies
RG Group has been a leader in pneumatic, hydraulic and electromechanical technologies for more than 60 years. We create products and solutions for companies across an array of industries, including marine, aerospace, oil and gas, robotics and more. Our factory-trained technicians have the expertise to assist you on any project, and we offer many custom services for our customers. When you work with us, you can expect:
A large inventory for quick delivery and service
Custom solutions and installations
Factory-authorized repair service and warranty for major brands
24/7 repair and maintenance services
ISO-certified manufacturing
Field service technicians and service trucks for maintenance and troubleshooting
Certified technicians (welding, hydraulic, electrical)
RG Group is also a premier supplier of Parker products with many industrial hydraulic valve options. You can browse our valve options online or visit us in person at one of our Parker retail stores in the mid-Atlantic region to discover more than 3,000 Parker products.
To learn more about the products and services we offer, please contact us online today.