Instrumentation grade valves can perform in pressures up to 150,000 PSI. Parker instrumentation valves operate with precision in many different configurations. At RG Group we have the the Parker instrumentation control valves to fit the specific needs of your project.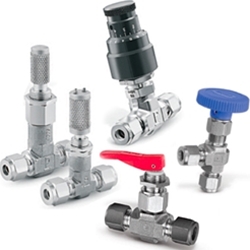 Instrumentation Flow Control, Needle, and Metering Valves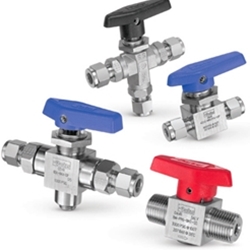 Instrumentation Ball Valves and Plug Valves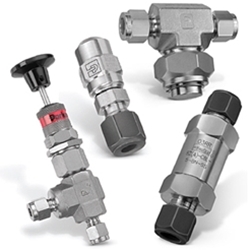 Instrumentation Check, Filter and Relief Valves
Parker Instrumentation Valves
For the harsh conditions of instrumentation applications and functions, you need instrumentation grade valves that will stand up to those conditions. RG Group has several types of Parker instrumentation grade valves available, including:
Flow control valves: Wide variety of flow control valves including needle valves and metering valves, all designed with leak-free shut-offs for fluid regulation in instrumentation applications. These are used in industries such as oil and gas, power generation and chemical for applications like process system control and instrument air.
Ball valves and plug valves: Parker instrumentation ball valves and plug valves are made with spring-loaded seats and trunnion-style ball design, so they will hold up to the harshest instrumentation applications. There are electric, pneumatic, manual and actuated 3- and 2-way valves available with 1/4 or 1/2 turn media shutoff. The design accommodates many end connections and combinations. Typically used in power plants, chemical plants and refineries.
Check valves: Parker instrumentation check valves can withstand the most severe conditions at any pressure. Commonly used in oil and gas, pharmaceutical and power industries.
Parker Product Information
With a reputation for excellence in engineering and innovation, Parker is a global leader in control and motion technologies. Parker produces high-quality products that are used in a wide variety of industries and applications, including electromechanical, filtration, hydraulics,pneumatics, aerospace and more. Their products are developed and manufactured to increase productivity, ensure safety and improve production and quality control.
Parker instrumentation valves are highly durable and reliable valve options that you can count on to provide results in your harshest applications.
Choose RG Group for Your Parker Supplies
RG Group is a premier supplier of Parker products with instrumentation grade valves that come in many different configurations. You can browse our instrumentation valve options online or visit us in person at one of our brick-and-mortar Parker stores in the mid-Atlantic region, where you can shop our inventory of more than 3,000 Parker products.
RG Group has been a leader in pneumatic, hydraulic and electromechanical technologies for more than 60 years. We create products and solutions for companies across a wide variety of industries, including marine, aerospace, oil and gas, robotics and more. Our factory-trained technicians can provide you with expert advice on what might work best for your project and provide you with custom solutions. When you work with us, you can expect:
Large inventory for quick delivery and service
24/7 repair and maintenance services
Custom solutions and installations
Certified technicians (welding, hydraulic, electrical)
Factory-authorized repair service and warranty for major brands
ISO standard manufacturing practices
Field service technicians and service trucks for maintenance and troubleshooting
For more information about our services and products, contact RG Group online today.