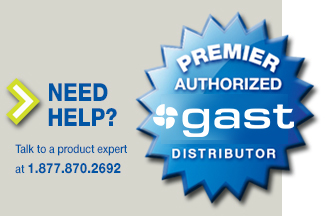 • • • • • • • • • • • • • • • • • • • • • • • • • • • • • • •
GAST is committed to the highest quality, superior reliability and performance, and as a select
Premier Authorized GAST Distributor
you can be certain we have the trusted expertise you need to get you the perfect part for your application.
Your complete source for GAST Manufacturing information
We have catalogs, operation and maintenance manuals ready for download, and when you've decided what you need we offer suggestions for accessories and replacement parts. Look for this handy information when browsing the various series under the Product Resources tab… and when you choose a specific part number, if there are Accessories or Replacement Parts you will find those links below the product attributes.