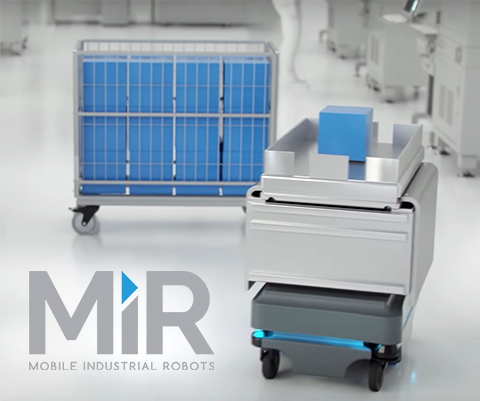 Get your business rolling with MiR

These AMRs (autonomous mobile robots) are a safe, cost-effective mobile robot that quickly automates your internal transportation and logistics. The MiR robot optimizes workflows, freeing staff resources so you can increase productivity and reduce costs. From the compact MiR100 to the heavyweight MiR1000, these robots are easy to use and program.
Learn more about the MiR Robots
What Are AMRs?
An AMR is a revolutionary technology that can dramatically improve safety and efficiency in your factory or warehouse. It is a transportation robot that consists of a mobile, load-bearing platform and on-board technology. Tell an AMR where to go, and it avoids any potential obstacles in its path.
AMRs are revolutionizing warehouses and industrial facilities. They save human workers from the fatigue and safety risks of carrying heavy equipment from one side of a factory to the other. These smart robots can learn to map their environment, follow a human on command and obey complex orders. They save time, increase efficiency and boost the productivity of your human workers.
Our Selection of Mobile Industrial Robots for Sale
MiR is a leader in autonomous mobile robot technology. At RG Group, choose from:
MiR100 Autonomous Mobile Robot: The MiR100 can carry payloads up to 220 lbs. It has a range of 10 hours or 12.5 miles. Program this robot to fully understand your logistics and internal transportation needs. It can easily and safely maneuver around people and obstacles.


MiR250 Autonomous Mobile Robot: The MiR250 has a payload capacity of 551 lbs. It's faster at 2.0 meters per second (compared to the MiR100 speed of 1.5 meters per second), and the higher payload means it can make fewer trips.


MiR500 Autonomous Mobile Robot: The MiR500 can handle a payload of 1,100 pounds with a maximum speed of 2 meters per second. It can climb ramps, roll through water puddles and handle other high-volume, heavy-duty challenges.


MiR1000 Autonomous Mobile Robot: For the biggest heavy-duty jobs, you need the MiR1000. This robot can carry over a ton of weight while retaining all the navigation ability and safety features of the other models. Use this robot to carry full pallets or heavy equipment from Point A to Point B.
Need more information or have questions? Contact us online today.