Careers
Join our team to work hard, make a difference, and succeed in a fast-paced environment.
Your success is ours
Choosing where to work is never easy. We know that you aren't going to make the decision to work for us based solely on a website visit. Nor should you! It's a big decision.
However, we do know that you want a place that's fun to work. You want to be part of a team that enjoy their work and working together. And you want to belong to a company that gives you a real chance to develop a career that rewards you both financially and professionally.
Whether you have the desire to start down a new career path, build more (and deeper) technical skills, or move into a leadership role, we can offer you those opportunities.
We want you to know as much as you can about RG Group before you decide to come work here. The following sections will help you get to know us, our management style, and our work culture, better.
Any questions just ask!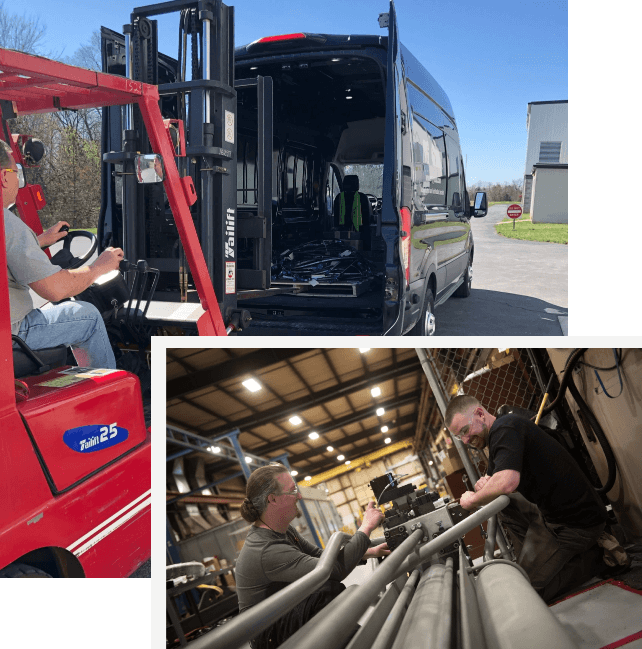 One great place. Many career paths.
The journey towards a successful career is filled with many trails, many of which can lead to rewarding surprises. We offer all sorts of roles in distribution, customer service, sales, technical support and leadership and pride ourselves of promoting within and rewarding great employees with great opportunities for advancement.
We offer roles in
Distribution
Customer service
Technical support
Field services
Sales
Engineering
Marketing
Human Resources
Finance
Looking to start or switch your career?
Our entry level DC Specialist position is a great opportunity to jump start your new career! Many team members that have started in the DC Center have grown their career within the company, moving into leadership, technical, sales and customer service roles.
You will learn all aspects of how a Distribution Center functions, plus we provide ongoing learning, certification, job shadowing, and formal mentorship programs.
Here's just a few of the places our DC Specialist role can lead you to.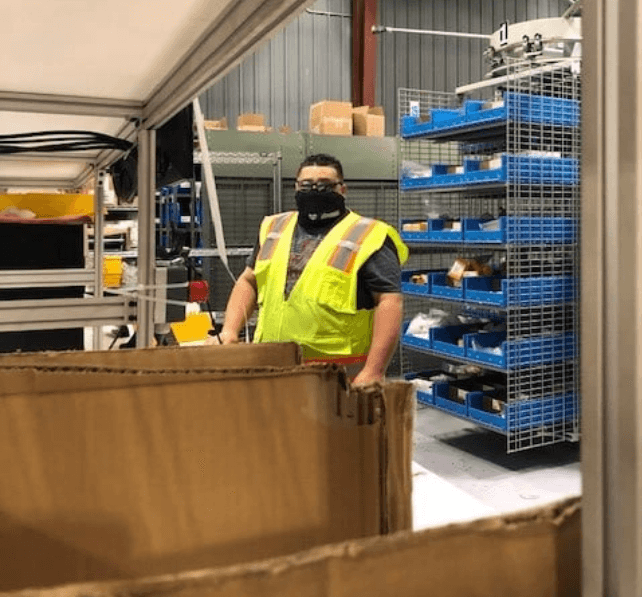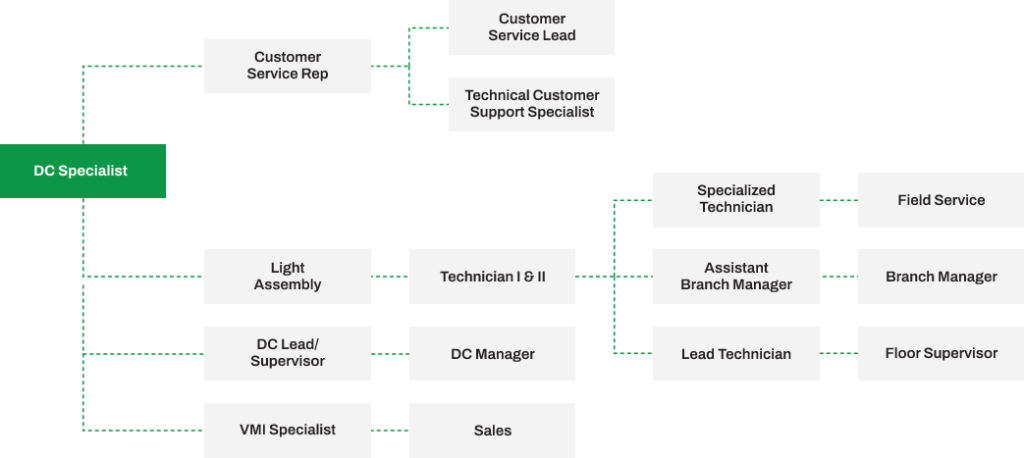 Perks and benefits
Competitive Salary
401k + Matching
Medical, Dental & Vision Insurance
Educational Assistance Reimbursement
Flexible Work Schedules and Remote/Hybrid Work
Paid Vacation
Company Sponsored Social Events
Employee Assistance Program
Commitment to Diversity, Equity, and Inclusion
As an organization, we acknowledge and appreciate the value in diverse perspectives and experiences. We understand that an inclusive culture fuels innovation and allows us to better serve our customers.
We are committed to expanding the diversity of our organization by cultivating an environment that welcomes and supports diversity through initiatives and programs. Each member of RG Group has a responsibility to support diversity, equity, and inclusion by having the courage to speak up, sharing experiences, being empathetic, and/or fostering an open and collaborative environment respectful of differences. Not only is supporting diversity, equity, and inclusion the right thing to do morally, it is also the right thing to do for the success of our organization.
Our core values
Honesty
We expect everyone to be truthful and to have a genuine commitment to the truth. Honest people do not deliberately mislead by misrepresentation, overstatement, partial truths, selective omission or any deceptive means.
Integrity
It means combining high standards of being and doing. People with integrity demonstrate the courage of their convictions by doing what is right even when there is great pressure to do otherwise.
Caring / Fairness
Justice in our company is tempered with compassion. We would seek to do unto others as we would have them do unto us. Customers don't care how much we know until they know how much you care.
Openness
We encourage dialog and reflection thought. We expect all of our associates to share information, ideas and thinking that leads to extraordinary communication, learning, discovery and performance.
Quality Dedication
Total quality and continuous improvement are obsessions at the RG Group. This is the means through which we can reach out Corporate Vision.
Promise Keeping
We say what we do, and do what we say. Promise-keeping is a critical measure of personal integrity, faith in self, mastery and an indispensable basis for success.
Personal Mastery
This is the value that allows us to be the best we can be. It involves continuous training and continuous learning both as individuals and as an organization.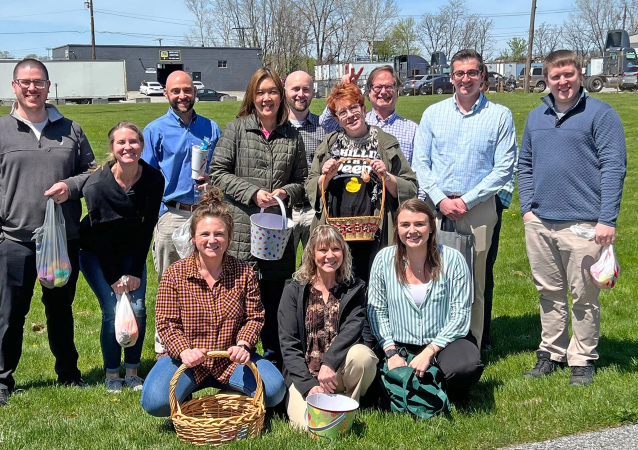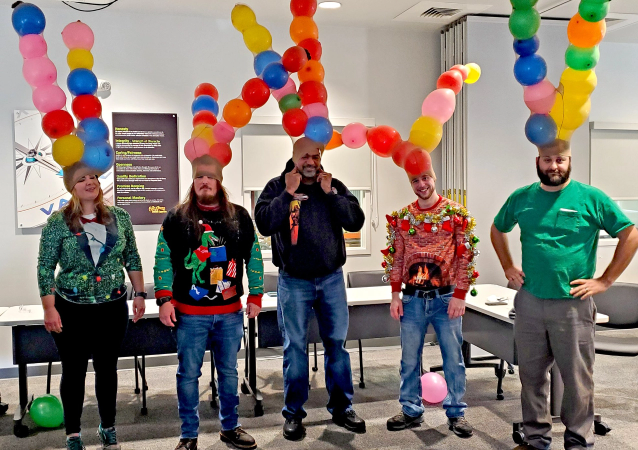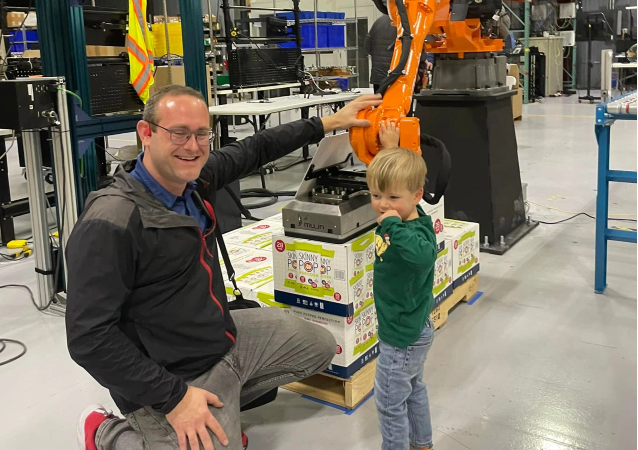 What our awesome team has to say
Who you work with is just as important as the work you are doing. Here are just a few videos from the team to help you get to know us, our management style, and our work culture, better.
Paul Martello
Automation Sales
Ashley Raugh
Buyer / Planner
Justin Urban
Distribution Manager
Lauren Kailian
Mechanical Technician
Ryan Morse
Light Assembly Technician
Bobbie Delp
Account Manager
Make an IMPACT with our internal mentoring program
IMPact is our formal employee mentoring program with the purpose of developing internal talent for future leadership and technical roles, particularly from within underrepresented groups.
Each year a small number of employees are invited to be part of the program. Participants can choose from two primary paths for development: Individual Contributor or Leadership paths.
Each mentee will develop their technical and soft skills with an Individual Development Plan (IDP) and leave the program with a holistic understanding of the company and the ability to grow their careers with RG Group.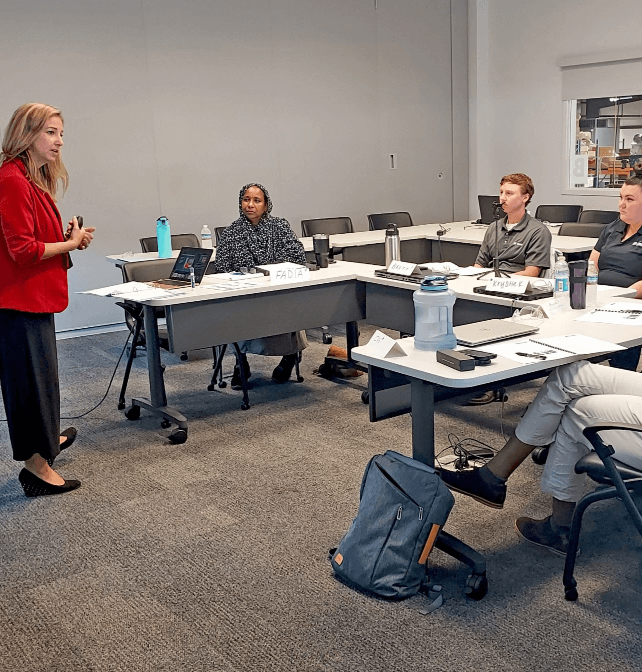 Still studying? Check out our internship program
It can be tough to get your first bring break post study. Our internship program provides current college-level students or recent graduates with experiential learning that allows them to practice and apply in a professional setting what they have learned in the classroom.
Our interns enjoy:
Opportunities to gain valuable, hands-on and practical skills working on projects with clearly defined learning objectives.
Ongoing mentoring, feedback and oversight from an experienced RG team member
A formal learning plan that they can add to their portfolio for academic requirements or to show future employers
We offer Summer Internships in a range of departments. Internship openings will be posted on our career page after February 1st each year.