STRATEGIC PARTNERS
Atlas Copco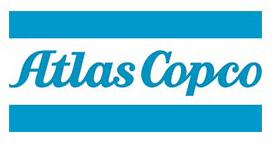 Atlas Copco companies develop, manufacture, and rent industrial tools, air compressors, industrial vacuum, construction and assembly systems.
They has been in the business of designing and manufacturing high-quality industrial tools and equipment since 1873. Now one of the most resounding names in the industrial field worldwide, the brand is best known in the United States for its range of vacuum pump and compressed air systems, industrial power tools, and construction equipment.
RG Group proudly carries the impressive selection of vacuum and compressor solutions from Atlas Copco for customers in the Mid-Atlantic States.
__________________________________
Listen to the maintenance supervisor at Dal-Tile to hear firsthand how their investment in an Atlas Copco GHS 585+ VSD has solved many of their operational challenges and saved them money, in only 4 months of operation!
---
Popular Products & Categories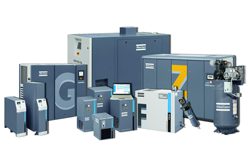 Air Compressor Products
Discover the range of reliable of Atlas Copco's industrial air compressors with the lowest life cycle cost. Energy-efficient and with a small footprint, their air compressors are suited for any application.
They have a complete range of oil-lubricated and oil-free industrial air compressors suitable for any industry and application.
Offerings include: Oil-free air compressors, Oil-injected air compressors, Air blowers, Gas generators, and Mobile air compressors.
Contact an expert!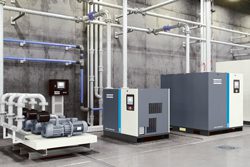 Vacuum Pumps & Accessories
Atlas Copco provides industry-leading industrial vacuum pumps and vacuum pump accessories that will help you with any application.
From food packaging, electronics, glass bottle and can production, paper printing, automotive parts handling, pharmaceuticals conveying, plastic extrusion, woodworking, brick and clay manufacture, to almost all general manufacturing, utility vacuum is everywhere.
Offerings include: Oil-sealed vacuum pumps, VSD controlled pumps, Dry vacuum pumps, liquid ring vacuum pumps, and Vacuum pump accessories.
Contact an expert!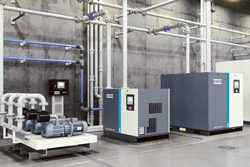 GHS VSD+ SOLUTIONS FOR CENTRALIZED VACUUM
The engine of any central vacuum system is the vacuum pump. This brochure features Atlas Copco's flagship range, the GHS VSD+ Series. This range of new-generation, intelligent, oil-sealed rotary screw vacuum pumps features Variable Speed Drive (VSD) technology. Based on the well-known and durable plug-and-play design principles of Atlas Copco compressors, these vacuum pumps offer:
Superior performance against benchmarked oil-sealed, claw pump, liquid ring and dry vane vacuum pump technologies.
Increased efficiency – State-of-the-art screw technology, VSD and innovative motor design combine to produce a leap forward in efficiency.
Quiet operation – Noise levels are around half that of comparable technologies.
Sustainable productivity thanks to built-in efficiency.
Reduced environmental impact due to ultra-high oil retention at all operating pressures.