Moxa is a leading provider of automation for the industrial markets.
The Moxa industrial networking system provides reliable connectivity for optimal communication between systems, people and processes with maximum reliability in the places where it counts most. Moxa tackles many critical, complex and harsh environments to build the safest, smartest workplaces possible.
Moxa has been in business for over 30 years and has connected more than 30 million devices worldwide to users in more than 70 countries. Their innovative, high-quality solutions have been used in a wide range of industries, including:
Factory automation
Intelligent transportation
Smart rail
Mining
Marine
Oil & gas
And more
Trust Moxa for Your Network Convergence Requirements
Companies come to Moxa for automation network convergence that will make their operations and processes safer, smarter and more efficient. With the large amount of technology involved in industrial automation, Moxa provides reliable network services to efficiently manage your data.
Moxa has four categories of products.
Contact RG Group for Moxa Products
If you need Moxa products, such as Moxa serial port server solutions, Moxa industrial Ethernet and more, RG Group has what you need. Call us today at 1-800-340-0854 or fill out our online form. One of our representatives will be in touch as soon as possible.
---
Popular Products & Categories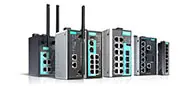 Industrial Network Infrastructure
Gast Piston air compressors and vacuum pumps are built to withstand the most rugged operating conditions with corrosion-resistant materials used for critical internal parts. Ring design provides consistent flows throughout the service life of the unit. All models are oilless and come in motor-mounted or separate drive styles.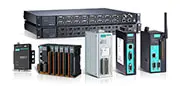 Industrial Edge Connectivity
The ROC-R rocking piston line combines piston pump durability with diaphragm pump efficiency, proven outstanding performance and flexibility. They are available in standard, twin, and miniature styles, make them the perfect choice for hundreds of applications.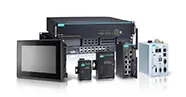 Industrial Computing
Rotary Vane air compressors and vacuum pumps are used in thousands of applications worldwide. Available in oilless, lubricated, motor-mounted, and separate drive styles, they offer a wide choice of capabilities.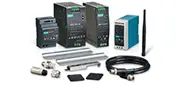 Accessories
Ideal for medical and dental facilities, laboratory setups, air sampling equipment, and industrial applications, these diaphragm air compressors and vacuum pumps are the durable and versatile choice.

MOXA EASY 3
Looking to meet the challenges of connecting older equipment to Ethernet networks?
Moxa has a wide ranging portfolio of serial device servers, industrial protocol and remote i/o gateways to connect a variety of devices such as VFDs, PLCs and sensors to industrial Ethernet networks.
From surveying factory engineers, 3 prevalent issues that they experience are integrating the diversity of legacy devices, time consuming process of configuring devices, and difficulty troubleshooting older equipment.
Know what you need?
Submit a Request or Shop Online
Diversity of legacy devices: On a majority of factory floors, we see devices that support a mixture of fieldbus and Ethernet protocols. Some devices like sensors and RFID readers are often serial based. Other devices speak standard industrial protocols like Modbus or DNP3. In addition, most automation engineers need to connect these devices that communicate different industrial protocols to Ethernet-based SCADAs and HMIs to control and monitor their operations.
Time consuming setup and configuration: When making devices interoperable, many automation and control engineers have had a difficult time configuring and setting up their devices to communicate over Ethernet SCADAs. This is caused by devices using different industrial communication protocols.
Difficulty troubleshooting old equipment: Once equipment is connected, engineers need visibility of their network equipment to quickly, accurately and easily diagnose and troubleshoot any issues. In addition, many automation engineers are not familiar with IT network management tools like SNMP or command line interface.
---
There has to be an easier way to configure, troubleshoot and monitor older equipment on factory SCADAs and HMIs. This is where Moxa's Easy 3 for Connectivity can help overcome these common automation challenges:
NPort Device Services:
Long-term Driver Support: Unlike other vendors, Moxa guarantees serial device server driver support up until 2025.
Industrial Reliability: To protect against voltage spikes interfering with mission critical operations, Moxa developed surge protection for serial, LAN, and power lines.
User-Friendly: With a 3-step configuration wizard, users can set up their devices in 30 seconds or less without a CCNA or IT knowledge.
MGate Protocol Gateway:
Easy to Configure: With our easy and intuitive web browser user interface, you can connect a Modbus slave device using our gateway in 60 seconds!
Easy to Troubleshoot: Moxa offers a free network management utility called MGate Manager Tool to monitor network traffic and easily troubleshoot any issues with connected devices.
High Performance: For the MGate 3600 family of industrial gateways, we support active polling that offers network speeds 10 times faster than traditional gateways. The way active polling works is by having our gateway actively request the status of connected slave devices. The status of these slave devices is stored within the gateway's buffer, readily available for the master to request. This improves network performance by a factor of 10.
ioLogik Remote I/O:
Interoperability: These remote IO gateways support both OT and IT protocols, so you don't have to worry about protocols not being supported. On the OT side, ioLogiks support common industrial protocols like Ethernet/IP and Modbus/TCP. For IT, ioLogiks support RESTful APIs for dashboard analytics and SNMP for network monitoring and troubleshooting.
Easy Deployment: With 2 Ethernet ports, each IO gateway can be daisy chained with CAT5 cables along an assembly line or plant floor to save on cabling costs and deployment time. No more need for running conduit or extra cables to collect IO data and no more taking up extra space on your PLC backplane with a standalone device solution.
For more information or to request a quote, please contact [email protected]