STRATEGIC PARTNERS
Doosan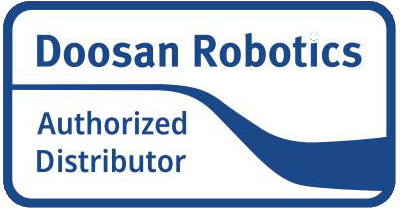 Doosan is an innovative robotics company based in Korea that creates collaborative robots (cobots).
After attaining the largest market share in Korea and successfully expanding into the European markets, their much-anticipated line of versatile cobots has arrived in North America.
Doosan cobots are safe and reliable partners that can be used in a wide variety of applications. Their commitment to engineering excellence and innovative technology has put them at the forefront of the market, and they continue to forge ahead and create industry growth while also providing the best value possible.
Doosan Robotics and Cobots
Doosan COBOT robots are capable of completing highly complex tasks. With high-tech torque sensors on each of the robot's six joints, it is unmatched in its precision force control. The cobots perform precision tasks with very close proximity and efficiency. They also measure key work data automatically to increase speed, and their non-slip pattern application ensures optimal grasp. The cobots have industry-leading collision detection as well, making them top-ranked when it comes to safety.
Doosan cobots have a wide working radius and range of variable payload, making them an ideal automated solution for nearly any industrial application, including:
Assembly: From electronics to general machining, Doosan cobots can provide the same dexterity as human workers on your assembly projects.
Air blowing: Doosan cobots can perform spiral and multi-angle composite spray motions for effective air blowing.
Packaging/palletizing: Choose from a variety of packaging and palletizing pattern motions for the Doosan COBOT robot to perform. Its axis alignment feature ensures the task is done precisely.
Machine tending: Doosan cobots help increase production efficiency from the processes that handle finished products.
Gluing/bonding: Using the innovative motion algorithm, Doosan cobots can apply adhesive spray and finishing materials typically required in assembly lines.
Polishing/deburring: For post-processing tasks that require constant precision, Doosan cobots can simulate the hand motions of the operator with total accuracy.
Quality inspection: Cobots can perform general inspections as well as visual inspections with their camera systems for any industry, from automotive to cosmetics and more.
Pick & place: Doosan cobots can transport products and parts from any manufacturing site. Its intuitive teaching feature allows you to program the cobot to your specific pick and pace needs.
The cobots can be mounted on any room surfaces including walls, floors and ceilings.
Available Doosan COBOT Robot Models
At RG Group, we offer each of the four available Doosan cobot models. Each model includes the industrial hydraulic robotic arm, as well as a control platform and teach pendant so that you can easily monitor the robot operating environment and teach the robot with simple drag-and-drop icons. The models have different size arms with varying capabilities.
RG Group is an authorized supplier of Doosan cobots. We pride ourselves on providing our customers with innovative fluid handling and custom motion control solutions. For more information about Doosan cobots, fill out our online form. One of our representatives will be in touch as soon as possible. You can also give us a call toll-free at 1-800-340-0854.
Palletize with a Collaborative Robot… the PalletizHD™
Easy to program, plug and play – ready to work in minutes!
It's time to eliminate manual operations – By eliminating the stacking of boxes, workers are removed from a job where ergonomic injuries are likely to occur. You're freeing a skilled laborer to work on a higher value-added task.
Being collaborative means it works alongside workers, cage-free! A palletizing robot system can be added to an existing line without additional guarding or fencing making set-up simple.
DURABLE AND PORTABLE Easily move with a forklift or pallet jack.
MINIMAL INTEGRATION Plug-and-play system ready to work in minutes.
CUSTOM END-EFFECTORS Easily swap end-effectors.
PALLETIZHD™ SOFTWARE Drag-and-drop pallet configuration.
CONTINUOUS OPERATION Two-pallet reach for continuous production.
AUTO-HEIGHT ADJUSTMENT Auto adjustment to pallet height specs.
---
Popular Products & Categories