STRATEGIC PARTNERS
Destaco

Destaco boasts of a long and prolific history in the industrial solutions industry. In 1936, back when the company was known as the Detroit Stamping Company, it invented and patented the world's first manual toggle clamp.
Today, Destaco is trusted across the globe when it comes to high-performance automation, workholding, and containment solutions. As a subsidiary of the Dover Corporation, Destaco offers a comprehensive product line designed by experienced and innovation-minded engineers who strive to stay at the forefront of the automation industry.
View our range of Destaco products
---
Popular Products & Categories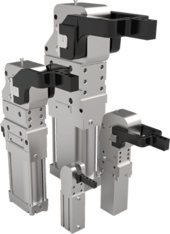 Power Clamps
Designed for either light or heavy-duty workholding requirements in harsh welding environments, Destaco power clamps deliver exceptional clamping forces and holding capacities relative to their size. This product line includes standard clamping solutions designed for holding products securely and pivot units that are made for tipping, dumping, and/or rotating parts and tooling to the proper work position.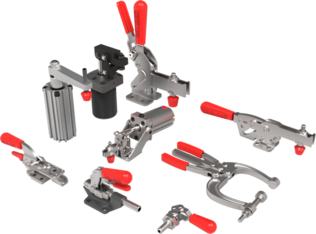 Manual, Pneumatic, and Hydraulic Clamps
Count on Destaco solutions to hold your workpieces in place securely, even for the most demanding operations and requirements. Destaco manual, pneumatic, and hydraulic clamps guarantee high-force, distortion-free clamping with compact profiles to suit a variety of work spaces.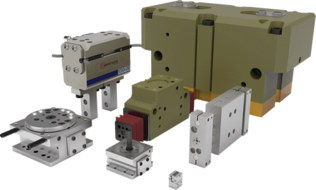 Robohand Gripping Solutions
Robohand is Destaco's dedicated product range for industrial robotic gripping solutions. The Robohand line has products available to suit various industries and their respective needs, such as miniature clean room products for pharmaceutical companies, stainless steel grippers for food and beverage, and heavy duty material handling solutions for industrial automotive applications.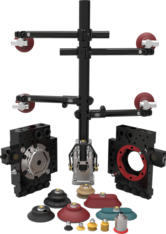 End Effectors
If you are looking for specialized tools to maximize the abilities of your robotic arm devices, count on Destaco to have the right solution for your specific need. Destaco has more than 30 years of experience in this field, so expect no less than world-class quality with its range of end effector products.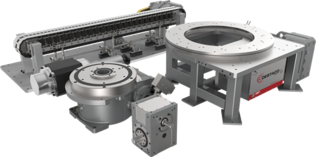 CAMCO Indexing and Conveying Solutions
In 2007, CAMCO joined the formidable Destaco product portfolio, expanding Destaco's range of offerings for indexing and conveying applications.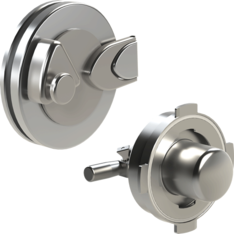 CRL Remote Handling Solutions
Central Research Laboratories (CRL) joined Destaco in 2008, adding a new range of high-performance remote handling solutions for applications that involve hazardous materials and life science research.