STRATEGIC PARTNERS
Jun-Air

JUN-AIR is a leading manufacturer and supplier of quiet air compressors, serving a global client base that spans more than 100 countries around the globe.
Sleek, versatile, and long-lasting, JUN-AIR products are the ideal solutions for the following industries:
Dental
JUN-AIR air compressors work ideally for dental facilities that require clean and dry compressed air.
Health care
From clinics to operation rooms, JUN-AIR's high-performance and low-noise air compressors complement the skills of the world's best medical professionals.
Laboratory
JUN-AIR air compressors are great for facilities that perform gas generation, zero-air generation, Fourier-transform infrared spectroscopy (FT-IR), and nitrogen generation.
OEM (original equipment manufacturing)
JUN-AIR's versatile air compression solutions are approved for use in a wide range of OEM applications such as beverage dispensers and graphic design equipment.
RG Group: Authorized distributor of JUN-AIR products and solutions in the Mid-Atlantic
If you are looking for the best air compressors and original replacement parts for your business, contact RG Group and ask about our range of quiet, energy-efficient, and dependable JUN-AIR products and accessories. Call 717.846.9300 or 1.800.340.0854 (toll-free) or email [email protected].
---
Popular Products & Categories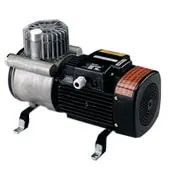 Quiet & Clean Air Series
Blaze into the future with JUN-AIR's latest generation of low-noise, high-efficiency air compressors.

Quiet Air Series
Trusted by dental professionals across the world – with many units still in perfect working condition through 25 years of use – JUN-AIR's original oil-lubricated quiet compressor line is a testament to the enduring quality and reliability that only this brand provides.

Original JUN-AIR Accessories
Keep your JUN-AIR air compressor in tip-top shape with original replacement components and accessories. JUN-AIR's range of original parts includes combination filters that reduce oil, replacement valve plates and piston seals, and even trolleys that make your compressor easier to move around.