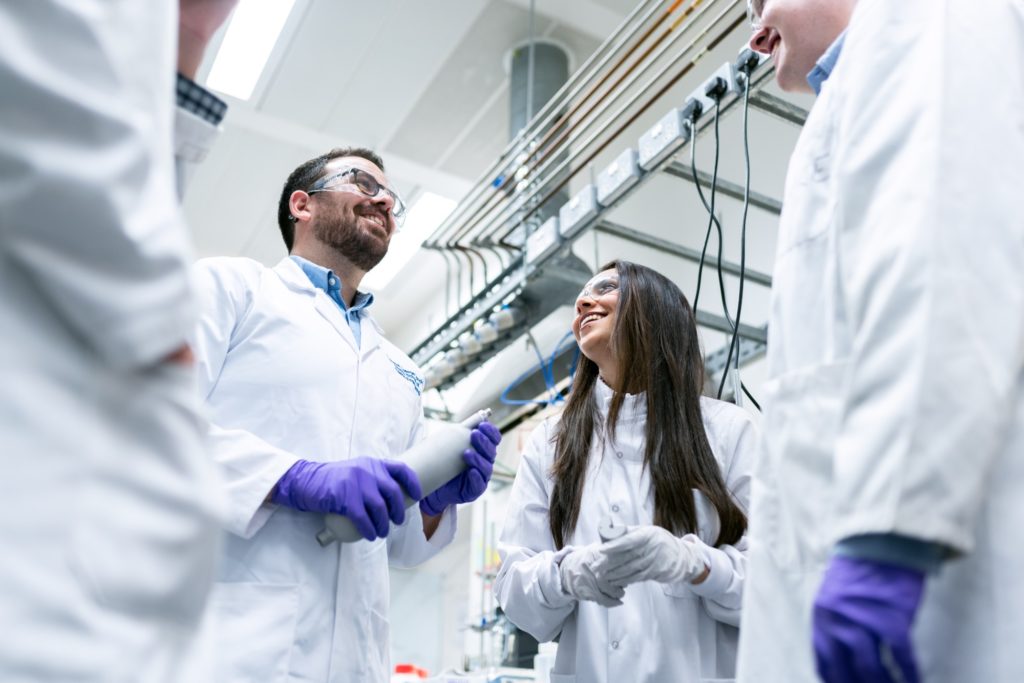 As reported in PWC's 23rd Annual Global CEO Survey, chemical mixing companies "will need to invest in their people and capabilities" if they wish to succeed in the rapidly changing chemical industry.
One key way to future-proof your company is to ensure your mixing operations are running as efficiently and smartly as possible. Air motors and pumps are more reliable, efficient, and cost-effective than their electric counterparts. They are also safer.
From air motors, compressors and vacuum pumps to state-of-the-art tank systems. Gast guarantees that its product technologies will meet your specific application needs. Read on to learn why Gast is the right choice for those looking to invest in the best chemical mixing equipment on the market.
1. Chemical Mixing: Gast Has the Gear You Need
Some manufacturers focus on making materials and products for the chemical, food, and beverage, and medical industries. They regularly need to blend a mix of powdered or liquid ingredients. In all sectors, blending is a necessary process that increases the value of the final product.
Given the importance of this process, it's worth investing in the highest quality equipment. That includes getting the right motors and pumps for your mixing machinery. When looking to create a motor-driven mixer set-up, you need to consider several key questions before making a purchase.
These concerns include:
What are the torque and power requirements for your mixing needs?
What level of efficiency do you need to operate?
What are the weight limits for the mounts you will use?
Are flammable materials used in the mixing process or nearby?
What is your annual budget for technology upgrades?
In almost every circumstance, air-powered technologies (versus electric products) come out on top.
Gast has a huge range of industrial-grade pneumatic products. They carefully tailor each product to match the varied chemical mixing tools their OEM and end-user customers use.
The selection includes:
Vacuum generators and pumps
Gear and air motors
Regenerative blowers
Gear motors
Compressors
In particular, Gast MVP motors are designed with industrial chemical mixing in mind. They feature precise, cost-effective controls and consume less energy. Because they're modular in design, they're easy to maintain: simply remove the backplate and exchange the cartridge.
2. Gast Products Keep You and Your Staff Safe
Worker safety is at the forefront of all Gast product designs. An interesting aside, the company is as well regarded for their expertise in safety and fire equipment, such as the Jaws of Life® range of recovery and rescue products, as they are for their industrial pneumatic machines.
Overall, air motors and pumps are lighter than their electric counterparts, meaning they're easier (and safer) for workers to install. Because they use compressed air, they're originally non-sparking, making them safe to use around flammable chemicals or in corrosive and wet areas. Though you can now buy explosion-proof electric motors, they come at a very high cost to the purchaser.
Shockingly, over 22 million workers in the USA are exposed to hazardous noise levels at work each year. It's for this reason that Gast developed a state-of-the-art Sound Shield for its pumps and air compressors. It can be retrofitted onto a machine in the factory or before delivery.
Sound Shield reduces db[A] by 25 percent and Sones by a whopping 40 percent compared to a standard Gast pump. There's no need to buy extra (often costly) sound reduction parts either.
In this way, using a Gast product may go some way to helping companies follow the Strategic Approach to International Chemicals Management (SAICM) as well. The United Nation's founded the SAICM in 2006. The protocol ensures that the use and manufacturing of chemicals are as harmless as possible for the environment and human health.
And don't forget that it's important to use the right mixer for your application to ensure chemical mixing safety. If you're unsure of what that might be, don't be shy to tap into the decades of the collective knowledge of the Gast customer service staff.
3. Constant Product Innovation
Perhaps a surprise to most consumers, industrial mixing plays a key role in the development of the goods and foodstuffs they use every day.
Of course, the various sectors that use the best chemical mixing equipment understand this fact. Just as well as they understand how vital constant innovation is if they want to remain competitive.
Gast has been a leader in compressor system engineering and development since 1921. Today, they continue to improve their products in the industry-leading Gast pneumatic lab. They also conduct in-field testing with willing customers.
With the use of real-time data collection and advanced testing equipment, Gast measures an array of parameters to help them continually refine their pumps, motors, and other air-powered products. The lab is also home to two anechoic chambers and cutting-edge sound and vibration measurement instruments.
Using compressed air can be costly if its use is not well managed in the factory environment, or if the products are not regularly updated to keep up with changes in machinery technology. Gast is continually working to create products that are more energy (and therefore cost) efficient.
All in all, Gast makes good use of their lab to improve existing products and develop new products for the benefit of their loyal customer base. Not only that, but Gast taps into its vast knowledge and powerful body of research to assist OEM customers, helping them to develop bespoke systems that suit their unique mixing needs.
4. Customer Support That Doesn't Stop With Purchase
Gast knows they're not the only motor and pump manufacturers in the USA. That's why they put customer service first.
By, Gast prides itself on giving customers all the information they need to make the right choice. Extensive descriptions and technical specifications for each product are available for download on their website and their online parts store is simple to navigate and easy to search.
Are you running into ongoing issues with your chemical mixing tools? Don't be shy to drop a line to Gast and ask for help.
Their highly experienced engineering team and the Gast lab is on hand to troubleshoot applications, processes, and new products for all their customers. They'll visit your manufacturing center for on-site maintenance and performance measurements or provide technical assistance via email and phone.
What if you're not located in the US? Or you're a US company looking to fill motor and pump orders for mixing businesses abroad? Outside of North America, Gast has distributors right across Europe and Asia. They even have representation down-under in Australia and New Zealand.
Gast even offers customers a handy way to maintain their products on the factory floor. Service kits for everything from diaphragms and rocking pistons to vacuum generators and air motors are available for purchase on their online store.
5. A Proudly Made In America Company
Gast has held an important spot in American manufacturing history since the early 1920s. In fact, a collection of over twenty Gast pumping machinery and air compressors trade catalogs dating from the 1900s is held in the Smithsonian Libraries Trade Literature Collections.
For generations, the company was managed by various members of the Gast family. It wasn't until the late 1990s that the company went public when then-President Warren Gast stepped down. The company was acquired by IDEX in 1998. Gast customers benefit from collective product research that spans forty companies and seven-thousand employees across the globe.
Today, the manufacturing of air motors, compressors, and pumps still takes place at the Gast headquarters in Michigan's Benton Township. Research and development are down at a different facility in the same city.
It's with this dedication to Made in the USA quality that Gast has held onto its enviable stable of over half a million loyal customers across more than one hundred nations. If influential conglomerates like ExxonMobil count Gast as a trusted partner, you can be certain they're the right manufacturer for you.
Tap Into a Century of Industry Experience
Gast has decades of experience serving the general industrial market. This includes those companies with paint, plastic, food, and chemical mixing needs.
They work hard to ensure both their OEM customers and end-users get the pneumatic products they need. This helps them to get their chemical mixing brands moving and get the job done quickly and safely.
Are you looking to add Gast products to your production line? Reach out to Gast today in the Americas, Europe, or Asia. Their staff is ready and waiting to assist you with all your air and gear motor and vacuum pump needs.