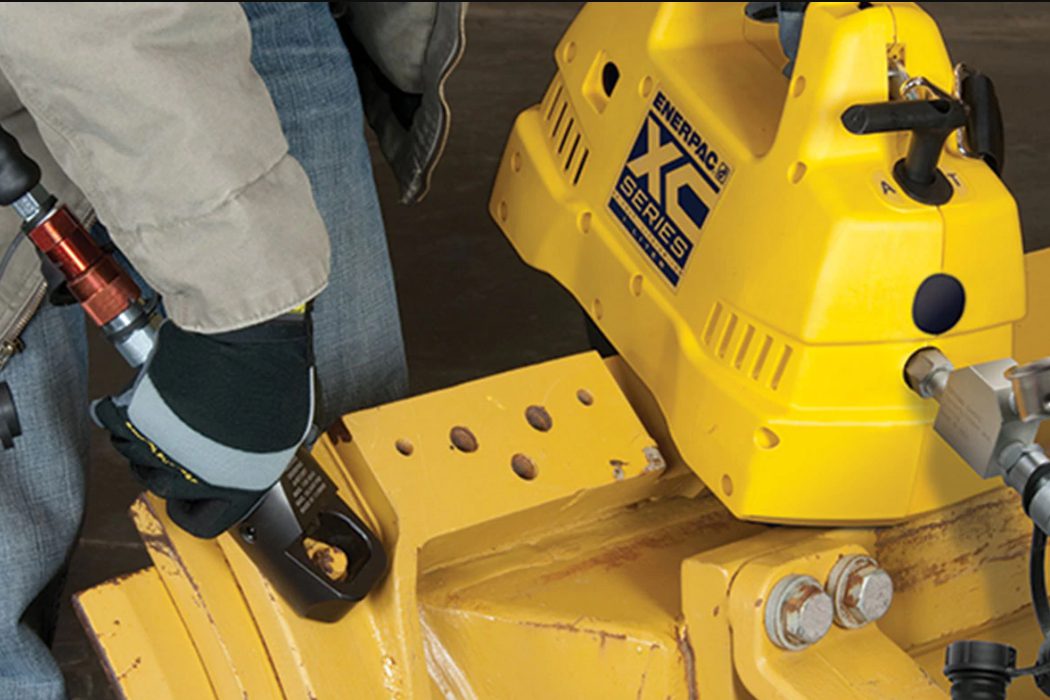 Before it was the hydraulic powerhouse it is today, Enerpac was already making waves.
Back in 1910, the original company was tasked with creating water pumps for Ford's iconic "Model T" car. In the 1920s, it catapulted into the technology space with the invention of hydraulic jacks. Thirty years later, Enerpac added an industrial products division.
Today, it's an industry leader in the hydraulic tools space, delivering solutions for thousands of applications across nearly every industry.
As a certified Enerpac reseller, we're proud to carry these products in our online and brick-and-mortar stores. Today, we're spotlighting and showcasing some of the brand's hottest solutions for 2020 and beyond.
High-Pressure Hydraulic Cylinders
Enerpac's high-pressure hydraulic cylinders are heralded as some of the best in the business, and for good reason. These tools have the capacity to deliver intense force with ease, allowing you to push, pull, lift, or hold your equipment as effectively as possible.
Enerpac categorizes these cylinders by their purpose and function. In addition, each category has its own unique force capacity and stroke length. Your options are as follows:
General-purpose cylinders
Lightweight aluminum cylinders
High-tonnage construction cylinders
Hollow plunger cylinders
Spread cylinders
Universal long-stroke and high-cycle cylinders
When you work with our team, we'll help you choose the perfect hydraulic cylinder for your application. While Enerpac offers a variety of configurations and sizes, there's one that's just right for the job.
Specialty Lifting Products
When you need lifting equipment, you can't afford to waste time and resources on a pint-sized tool. Rather, you need robust machinery that can get the job done the first time.
This is where Enerpac's specialty lifting products come in.
Designed to be both rugged and sleek, these tools are user-friendly and a cinch to maintain. When you shop with us, you can choose from any of the following:
Aluminum and steel hand jacks
Spread cylinders
Industrial bottle jacks
Hydraulic machine lifts
In addition, we also carry the brand's trademark POW'R-RISER® Lifting Jacks. Featuring either a pneumatic or electric pump, each lifting jack also includes the following:
Three-position handle
Four inches of ground clearance
Fully-enclosed frame
Hydraulic Presses
Almost every industrial manufacturer has a need for some sort of hydraulic press. Yet, they aren't all created equal.
The welded frames on Enerpac's presses make them as durable and long-lasting as possible. In addition, each press comes equipped with the brand's Roll-Frame feature. This allows the frame to roll on four steel roller bearings while hydraulic clamp cylinders secure it into position.
Hydraulic and Mechanical Pullers
From presses to pullers, Enerpac does it all. Designed as either mechanical or hydraulic, these pullers are made of high-strength steel alloys and can easily remove the following shaft-mounted components, among others:
Bearings
Sleeves
Gears
Sprockets
Wheels
If you're used to hammering, prying, or heating your components in an effort to remove them, these pullers are a much quicker, effective alternative.
Hydraulic Pumps
Did you know there are more than 1,000 configurations available for Enerpac hydraulic pumps? Since those early days with the Model T, the company has earned a well-deserved reputation as one of the most flexible and agile pump manufacturers in the industry.
These hydraulic pumps can be customized to fit a variety of power options, including:
Manual pumps
Air hydraulic pumps
Electric pumps
Gasoline pumps
Mechanical and Hydraulic Industrial Tools
When you need quick access to a mechanical or hydraulic tool, it pays to have everything in on spot. That's the premise behind many of the sets that Enerpac provides.
Yet, these aren't the only Enerpac industrial tools we carry. In addition to tool sets, we also carry a wide variety of resources, including:
Machine lifts
Maintenance sets
Hole punches
Load skates
Cable cutters
Bolting tools
Workholding Tools
Successful manufacturing hinges on precision. That's why you need an expert workholding tool to keep your hard work in place. Delivering impressive clamping and positioning force, Enerpac solutions aren't going anywhere.
For that reason, they're a go-to favorite for professionals in the automobile manufacturing realm. In addition to hydraulic cylinders, you can also find hydraulic pumps and valves, along with accessories and service parts.
One of the best parts? Enerpac's workholding tools are innovative and future-focused, incorporating technology such as Collet-Lok®. Once you hydraulically actuate the tool to clamp your workpiece, this revolutionary clamp maintains the clamping force, using a trademarked mechanical locking system rather than hydraulic pressure.
System Components and Accessories
You might not think too often about the internal components of your Enerpac resources, nor the accessories they require to remain operable.
However, you'll notice immediately when one wears out and needs replacing. Thankfully, the brand makes it as easy as possible to find what you need. Whether that's a high-pressure hydraulic hose, hydraulic pressure gauge, hydraulic valve, or any other piece, you can rest assured you're getting the best in the business.
To keep all of these components operating as smoothly and successfully as possible, we also carry Enerpac hydraulic oil!
On the accessories side, we carry a variety of Enerpac tools to help you keep your machines clean and safe. The short list includes:
Adapters
Extensions
Connectors
Couplings
O-rings
Valve plugs
In addition, we also carry repair kits, service kits, and replacement kits to help you take proactive control of your machinery!
Shop Our Full Selection of Enerpac Products Today
There's a reason that Enerpac has become synonymous with top-quality hydraulic solutions. The company takes no shortcuts when designing their rugged, high-performing tools.
When you're ready to take your manufacturing environment to the next level, we'd love to help. We offer a range of Enerpac products, as well as other, similar solutions.
Feel free to shop our site to find the resource you need today. Then, contact us with any questions and let's connect!