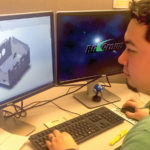 I started working at RG Group in the Spring of 2015, and as a recent graduate, I was asked for some insight on what the job experience has been like… what I learned since working here.
I was a Mechanical Engineering Technician major and received a well-rounded mechanical engineering foundation. I had no idea what kind of job I would end up with, but I wanted to be in the automation/robotics field. Luckily my job here has that component. When I started at RG Group I knew very little about the specifics of fluid power. I work mostly with hydraulics, and what I have learned is they are not just used in industrial manufacturing, but pretty much everywhere. Almost every day I learn something more about the way fluid power is used.
One of the first things I realized is how many different fields we are involved in, something I really hadn't expected. Some of the more exciting projects I have seen pass through our doors were for the entertainment industry, medical equipment testing, steering controls for high-performance yachts, power generation, military applications and huge mobile units capable of pumping thousands of gallons of water the length of a football field (for putting out fires).
So, what did I learn since school?
I had extensive training in the SolidWorks application throughout school, where the prevailing opinion was "AutoCAD® was becoming obsolete and I would never use it." While I do a lot of work in SolidWorks, I still need to know AutoCAD® so I can draft schematic drawings.
I've developed an understanding of hydraulic and electrical schematics and their drafting symbols
I've learned about pipe fittings, tube fittings and hose fittings (there's a difference), as well as when and where to use them when designing a hydraulic power unit
I've learned that I have to understand exactly how a power unit works, particularly so I can design instructions for operating and maintaining the unit after it's installed.
What I wasn't prepared for after school
I wasn't prepared for working in an office. I'd worked in kitchens for years before being hired at RG Group. My position, Engineering Designer, means that I sit in my chair for a majority of the workweek. Occasionally I get to go out to the manufacturing area to measure units to produce built drawings. I have to admit, it didn't take long to get used to central air and not having to run around like a mad man, but it was an adjustment.
The reward…
I love the fact that I can create something in SolidWorks and walk onto the manufacturing floor and see it actually being built.