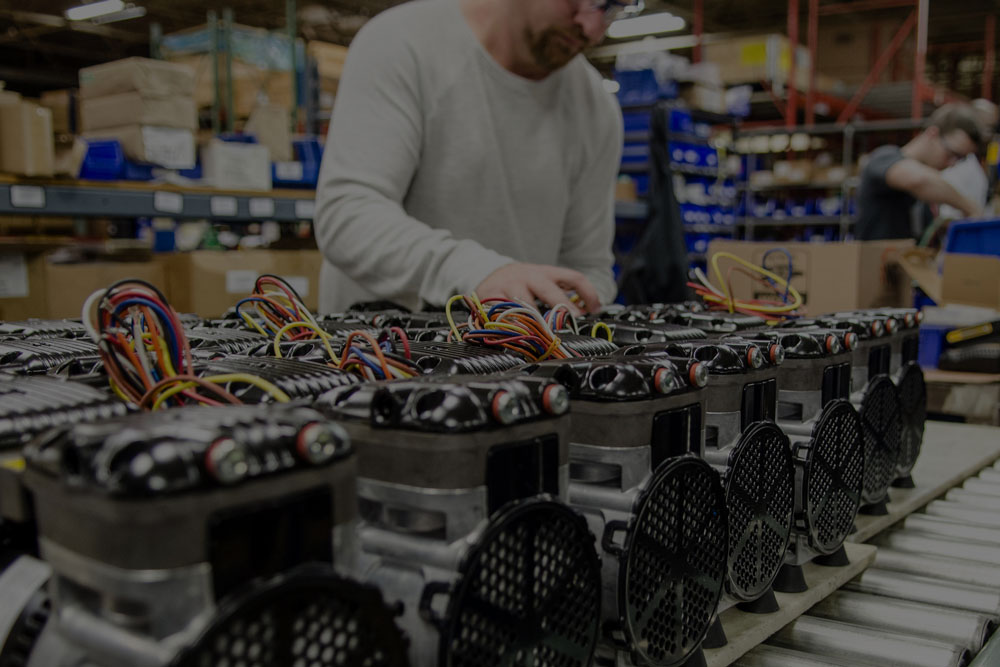 So you need an air compressor, but you're unsure where to look or what to expect? Not to worry, here we're delving into why a GAST compressor is the one for you.
In case you're in any doubt, an air compressor is a pneumatic device that uses energy to compress air, and store it for later use.
We're talking about GAST compressors today because they have a long and reputable history, and have been around since 1921 in fact. GAST products are well-known to be of high quality, easy to use, and boast innovative designs.
The good news is that they come in different shapes and sizes with a number of advanced features.
There's lots to cover, so without further ado, let's dive in!
What's an Air Compressor?
In short, air compressors are pneumatic devices. These machines are explicitly designed to convert power (by way of an electric or fuel-based motor) into potential energy. This energy is then stored within a pressurized air tank.
You can then use the compressed air by releasing the kinetic energy within until the tank has depressurized.
How Does it Work?
Air compressors work by forcing air into a sealed container and pressurizing it. The energy is then stored until the valve is opened. Kinetic energy is created by an electric motor, which forces the pressured air through the opening to be used as needed.
The engine that powers the air compressor consists of the same components as a combustion engine. Most notably, a crankshaft, piston, valve, head, and connecting rod.
The GAST compressor utilizes a rotary vane compressor. This works wonders for ensuring the efficiency and reliability that comes with high-quality technology.
A rotary vane compressor consists of a cylindrical rotor inside a casing. This has vanes which slot in at regular intervals. These vanes can self-adjust to increase/decrease the volume controls of each section.
As the rotor is off-center in its casing, it encourages each of these sections to expand and contract as it rotates, which increases and decreasing the compressor's air pressure.
This results from the centrifugal force acting on the vanes and extending to the outer casing during rotation. As the air is enticed through the inlet, it becomes trapped between the vanes. Then, as it is rotated it becomes pressurized as the volume reduces.
Now that we've covered the basics of what an air compressor is and how it works, here are six reasons why you should choose GAST for your compressor needs:
1. GAST Compressors Come in Many Sizes
GAST manufacturing produces air compressors in several sizes. These range from standard, twin, and miniature. So, rest assured, you'll always be able to find the right product for your needs.
2. They're Industry Leaders
GAST compressors consist of award-winning designs. This isn't surprising when you consider they're:
Compact
Lightweight
Oilless
Durable
Corrosion-resistant
Eco-friendly (through their low power consumption)
…And most importantly, easy to maintain.
3. High-Quality Design
Using a rotary vane compressor provides you, as the consumer, some considerable advantages. Most notably a:
Smooth, pulse-free air release to ensure maximum performance
It's small and compact for easy installation and operation
There are low-starting and running torque requirements
…To name a few.
4. Very Little Noise
With advanced sound insulation and vibration softening within the pneumatic circuit and mechanical section of the rotor, GAST ensures that you receive the quietest service compressors can provide. This makes them ideal for use in hospitals.
Sectors That Benefit From GAST Air Compressors
GAST manufacturing has hit the world by storm, and as it specializes in multiple disciplines, its products are now essential in many significant industries, including:
Medical, Dental, and Laboratory
With a global pandemic taking hold of the world, medical, dental, and laboratory equipment must work as efficiently as possible. This means accessing and using low maintenance products is more important than ever for ensuring the professionals can get on with their jobs without further complications.
As we've already mentioned, reduced noise levels are essential in hospitals and medical facilities alike. This is just another reason why GAST compressors are ideal for the medical sector (or any other caregiving industry, for that matter).
Industrial
As a leading manufacturer of air-moving products, GAST provides business and industry with high-quality solutions for a wide variety of applications.
GAST pride themselves on their thriving OEM customer base and ensure repeat custom by delivering the correct product for their needs.
Environmental and Dry-Sprinkler
GAST products have been utilized to help preserve and protect our environment. Their compressors have been influential in the environmental and safety markets.
Working with experienced engineers ensures that GAST has developed its products for any challenge the environment has thrown at them!
Oil and Gas
With their simple maintenance requirements and extended durability, GAST has provided years of trouble-free services to the oil and gas industry. Their high-quality compressors have been essential in a wide range of applications on and offshore.
Are You Ready to Start Using a GAST Compressor?
At RG Group, we pride ourselves on providing the best customer service and products for your needs.
As a certified GAST manufacturer dealer, we are loyal to our products. Our passion is keeping your business moving profitably by utilizing our services and advising you on the best products for your needs.
Besides supplying your company with first-class technology, RG Group also provides various exclusive services, including preventative maintenance programs, safety seminars, training, and industrial or mobile repair and installations.
So, what are you waiting for? Call us on 1-800-340-0854 for a quote and advice on your next GAST compressor!