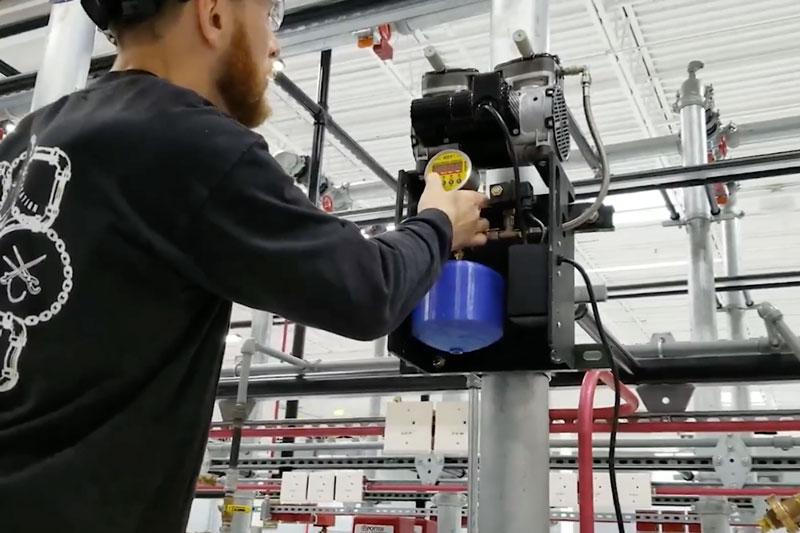 A vacuum pump is a machine that works by extracting air or gas from a container (usually a tank) to decrease the pressure of a confined space. Vacuum pumps are used in virtually every industry imaginable, so the question isn't whether your team needs them—but which manufacturer supplies the best on the market.
To put things simply, Gast is the only name you need to remember. The Gast pump is an overall superior product compared to the other name brands you'll come across.
In this article, we're going to talk about what you should consider when choosing new vacuum pumps and why you should go with a Gast vacuum pump. Read on to learn more.
What to Look for in a Vacuum Pump
There are several factors to take into account when looking for a new vacuum pump. The first and obviously most crucial factor is directly related to your intended use. This is what will determine the technology, vacuum level, flow rate, chemical resistance, and lubrication needed.
There are also five types of vacuum pumps you can choose from:
Rotary vane vacuum pumps
Diaphragm vacuum pumps
Liquid ring vacuum pumps
Scroll vacuum pumps
Turbomolecular vacuum pumps
The type of vacuum pump you need will depend entirely on the industry you'll be using it for. For example, the diaphragm vacuum pumps are corrosion and chemical resistant. Therefore, they're most suitable for the food, medical, chemistry, and cosmetics industries.
The other factors you need to take into account include:
The Flow Rate
A vacuum pump's flow rate is directly related to the machine's overall draining time. That means you'll need to assess the vacuum pump's capacity to produce the volume flow rate, which is the required pumping speed, and the mass flow rate (according to your process requirements).
In general, the higher the flow rate, the shorter the drainage time.
Chemical Compatibility
If you're working with chemicals of any kind, it's necessary to determine the type of problems your vacuum pump may encounter. Ideally, if you are working with chemicals, you'll start by choosing a pump designed to withstand chemical corrosion, such as the aforementioned diaphragm vacuum pump.
Overall, you'll need to assess the types of chemicals you'll be using and how they react with one another. Something as simple as incompatible gases can cause an unwanted reaction resulting in excessive damage.
Lubrication
Once again, the industry you're working in will directly determine whether you need a dry or lubricated pump. For example, a dry pump is much more suitable in a laboratory environment, whereas a lubricated pump is needed for agricultural applications.
Additionally, a lubricated vacuum pump works much more efficiently and offers more resistance. However, it'll also require more maintenance. So, you'll want to determine two things: Whether you need a lubricated pump and whether lubrication is, in fact, necessary to your operations.
Maintenance and Costs
Once you've taken all of the above into consideration, you can then analyze the number of maintenance cycles your vacuum pump will require. This will also affect your installation costs, which are separate from the purchase price and the ongoing operational costs.
Why You Should Choose a Gast Pump
Gast has been a leader in the design and manufacturing of high-quality air moving products and solutions since 1921. They've offered their innovative and revolutionary products to various industries for 90 years, withstanding the test of time to deliver high-quality systems solutions while building a solid reputation continuously.
Their pneumatic products are engineered with the most rugged construction to guarantee their products' reliability. Of course, that's not the only reason to choose Gast as your next vacuum pump manufacturer.
Here are the top three reasons why you should choose a Gast pump:
1. They Offer a Large and Superior Selection
Gast's pneumatic products are used within a large variety of industries and for multiple applications. Some examples would include:
The medical industry: For gas and air analysis, blood pressure monitors, breast pumps, respiration monitors, etc.
The agricultural industry: For foam markers, crop sprayers, pest control equipment, etc.
HVAC systems: For removing unwanted air, water vapor, and excess moisture from the working system
The list could go on forever, mentioning industries such as airbrushing, lab equipment, food processing, oil atomizers, airbrushing, and so on. Since they provide such an in-demand product, Gast offers its vacuum pumps and parts in an extensive range of sizes and types to fit every industry's needs.
Gast pump sizes range from standard, twin to miniature. They're also made to be compact and lightweight, oilless, long-lasting, corrosion-resistant, energy-efficient, and easy to maintain.
2. They'll Customize Their Designs to Fit Your Needs
Gast employs an entire team of designers to focus on creating innovative solutions that utilize the latest technology and materials. Since 1983, the company has implemented a "total quality process" gearing them towards creating only top-of-the-line products. They worked towards receiving their ISO 9001 certification to guarantee that their products are designed with superiority in mind and that their company remains at the top of the chain as part of an elite manufacturing company.
They also take things one step further with their customization promise. If you can't find what you need from their already broad selection, they'll have their team come up with a custom-designed vacuum pump that meets your specific needs.
3. They Promise Efficient Delivery
Gast has created an extensive network of sales distributors and representatives—the RG group being one of them. Their network reaches across the globe with facilities in the United States, the United Kingdom, and Europe, China, Shanghai, and Hong Kong.
All of this ensures that your Gast vacuum pump or parts are delivered to you as quickly as possible, so your business doesn't have to lose precious hours of productivity.
Order Your Gast Pump Today
Gast Manufactures has been around long enough to know what works and what doesn't. Having a Gast pump in your lineup means you have a reliable and durable system in place that's low on maintenance and high on efficiency.
If you're on the hunt for Gast vacuum pumps for sale, then look no further. Contact us today so we can help you find the right Gast pump or parts for your needs.