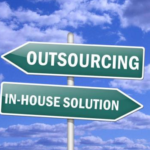 There are a lot of contract/outsourced manufacturers out there, but which one is right for you? Here are some things to consider:
• Proven record – Who are their customers? You might think this is pretty obvious but doing your due diligence is important. Know their history. Call their references to get a "real" snapshot of how they operate. If they won't provide them… then walk away.
• Extensive capabilities – You might not think you need it, but it's great to have a CM that can work in a range of materials and processes. There might be a time when your business needs to pivot and it will be nice to have a proven partner already in place.
• Engineering support – Take a look at their team: Having access to a team of skilled engineers with experience in your process and/or industry is invaluable. They may spot a flaw or be able to tweak your design in ways that can cut costs and time to market.
• Multiple locations/suppliers – Diversifying or duplicating your supply chain is smart business, driving down the cost to you. Using a CM that operates with carriers that have high shipping rates can be an unexpected COGS.
• ISO certified facilities – The ISO 9001 standards address quality issues. A contract manufacturer should be completely transparent about its quality plan. It does no good to produce a part or product inexpensively and on time if it doesn't meet quality standards.
• Project management support – Some contract manufacturers use a project management model to smooth the process for all stakeholders. A good project manager keeps track of all the details, agreements and timetables, and knows how to move the process along if it gets bogged down.
The RG Group would like to be part of your consideration as a strategic partner. We know outsourcing to a manufacturer is like a marriage – it's a long-term, multi-year, strategic relationship. We'll help you do your homework and look at the numbers. We understand that much of your choice will be based not only on the numbers but an instinctive, gut feeling. So, we're offering you our trusted expertise and hopefully giving you the confidence that we will always do the right thing for you and your business. We want to be your success story.
Learn more about our Flexible Outsourced Manufacturing services